Hello authors!
I have an already established Makeup SFX channel and I'd love to combine my work with yours for an extra creepy experience.  How my opportunity is different is the content I will combine with stories will include a creature creation and horror-based cinematography.  I'm looking for stories that have a creature element for Halloween and then after, I'm open to anything scary that will inspire a look.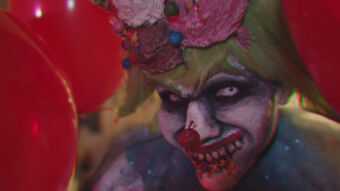 I'm including a screen shot of my first look for the 2019 season so you can see that I try for quality, I think it would be amazing to combine the creation footage with a creepy story instead of a boring verbal tutorial.   I'd love a clown based story, but am happy with any creepy killer/stalker story with a non-descript antagonist as well.
I will be doing six looks from now until Halloween.  This clown, a demon, a spider-based cryptid, scarecrow, pig monster, and an alien.  I'm working on the Demon and Spider next.   I currently have 1.4K subs and average 200 views per video but I'm just really getting my bearings on YT, I have 5,000 followers on Twitter and 13K on Instagram so I should be able to drive some traffic to hear your content.  Thanks for your time and I hope to partner with a few of you!!
-Nicole