Neutral - Actually...forget it.
I agree with what Scorch said down there.
In fact, fuck it, this is just one more thread to stay out of.
I still find funny how everyone goes "MWHUHUHUHU BOOOHOO DONT CLOZE DAOWN CHAT U MORONS, ITS KEWL" when they are asked on chat, while here they're all "YEH, GET REED OF DIS SHIET 4 SUM TIME".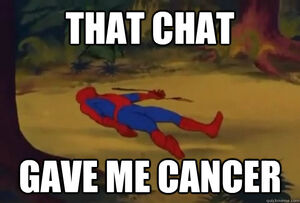 And don't you dare ask why am I still going to that place. It's fucking drugs in internet form.