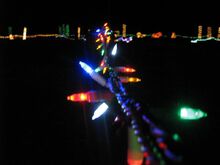 On Black Friday, the lights go up.
It's every bit a tradition as eggnog and fruitcake.
The odd bit is how fast we put out the Christmas lights.
Before the nights turn black as pitch and the cold gets that bitter edge and the wind whispers vague, unsettling things when you turn your head just so.
The darkness is beat back by the gaudy multicolored strands of electric lamplight and the stark white of 21-watt incandescent icicles.
Some people have even burned down their homes trying to erase every shadow from their property.
Still, for the entire month of December, the whole nation keeps its nightlight on.
Have you ever wondered why?