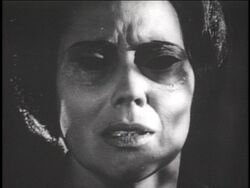 My grandmother was over, she's Mexican, and she has very selective taste in entertainment. I was looking for something to put on for her so she can watch, and I found what seemed to be a Mexican movie channel and I decided it might be interesting for her. On the channel guide, the title of the current programming was this:
La Misericordia (1956) No Description Available.
I thought she would like it simply because of the age of the film, but when I turned to see if she approved, she was fast asleep. I changed the channel anyway. I wish I hadn't now.
What I saw was this: An old black and white Mexican film featuring a woman singing a melancholic and slow tempo song and in the background you can hear a person crying terribly, kind of like how you'd imagine a person would cry knowing that they're about to die at the mercy of a twisted serial killer.
The crying became louder and louder and the woman started to cry too, far more believably than an actress of her time could muster up.
She looked uncomfortable and depressed, and as I started to feel dread, the screen turned black. It stayed this way for about three minutes before I decided to change the channel and when I changed it back to see if the scene finally transitioned into something, I simply couldn't. The channel simply didn't even exist.
Community content is available under
CC-BY-SA
unless otherwise noted.