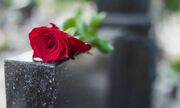 I used to think that it wasn't that important to go to the cemetery to visit my departed relatives, because we keep the memory in our hearts. But, as it turns out, that's not entirely true.
Often, in order to shorten my way to and from work, I used to run through the cemetery, which is now within the city limits. The cemetery is old, like a park. Here you can see people from neighboring houses walking in the mornings with their dogs. Often I also see young people - the so-called "goths".
One summer, taking a shortcut, I turned onto a path that led past a crooked tombstone. I saw another tombstone, of red granite potholes, in the center of which was a square inset of pale stone with the profile of a young woman. And under this profile, in stone, were two roses and an inscription with dates, also carved in stone. The dates were: September 8, 1899 - September 8, 1922. The inscription: "Loving and grieving your father. May your soul rest in peace." Running my fingers over the letters, I couldn't quite make out the woman's name. But I understood it: Pavlova Anastasia Alexandrovna. "Why did you leave this life so early? I wonder if anyone even comes to see you here." - I thought.
Life went on. And at the beginning of autumn, on my way back from work, I decided to walk along the path past the gravestone, since a thunderstorm was coming. I had already ran 15 meters from the tombstone, when for some reason, I turned around. At that moment, lightning flashed. I very clearly saw a girl in a light-colored dress near the tombstone. The first thought that came to my mind was that this girl was a "goth," who often sat in the evenings with a sad face on the bench in the central part of the cemetery. But then I remembered that the "goth" girls always wore a black guipure dress.
At night, I dreamt of the girl lying under that tombstone. "My name is Anicia," she told me, "I had lung disease. I loved tea roses. No one comes to see me anymore."
I woke up in a sweat. I looked at my watch - it was four in the morning. After waking up at six in bed and not sleeping, I got up. To my husband's question, "Where are you going so early?" I replied, "To buy flowers for Anicia. My husband's eyebrows raised in surprise. Apparently, he could not remember any of my friends with that name, but I did not explain anything to him. I didn't understand how and why my subconsciousness reminded me that today was September 8, the day of birth and death of Anicia, unknown to me. But, since then, every year on this day, I bring tea roses to her grave.