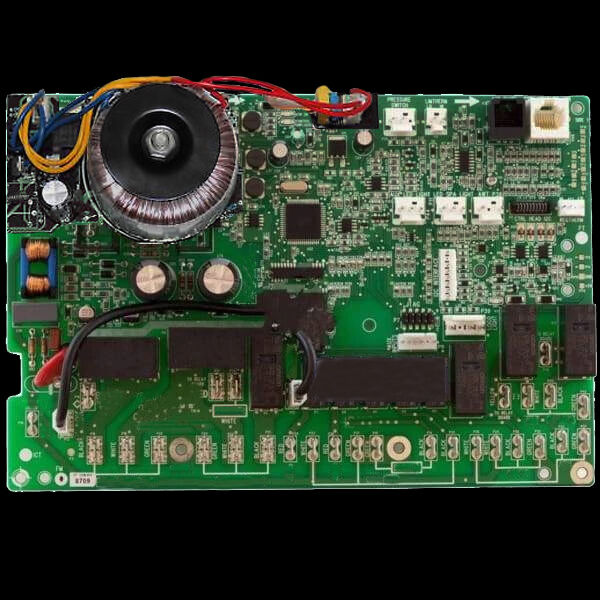 Part of the Cold Relics Series - Previous Story: The Electric Rabbit, Next Story: The Liminal Warehouse
Excerpts from email communication between "Kate", "Boris", and "Tyler"
Date: 12/3/14
From: Kate
To: Boris
Subject: "Fun Bunn" incident
Boris, my name's Kate. Kind of an acquaintance with Tyler and [redacted]. He told me what happened up in Buffalo, but I can't wrap my head around it. Does this have something to do with that Kiddie Land thing? That guy's gotten pretty obsessive, and some of the things he's told me freak me out. We've never met, yet he has memories of us looking for Kiddie Land together. Anyway, the fact that this is all messed up isn't the point. We've still chatted for a while online, for real, and I am of course worried about him. Is there anything you can tell me?
Date: 12/4/14
From: Boris
To: Kate
Subject: RE:"Fun Bunn" incident
Kate, Tyler's told me about you. I'm still trying to understand it myself. He wrote a journal about his experience that I'm tearing apart, figuratively speaking. I feel responsible for all of this. Knowing Tyler, he's probably already gone into depth about the game itself with you, though he only saw it briefly himself. I'll just say that I don't know what happened. It can screw with wiring, and maybe use them to produce a radio signal of some kind. It shouldn't even be possible that it could be interacting on a biological level. Shouldn't be. I'm currently looking into a hardware component that I didn't study enough when I bought it. I don't think anyone in the online group that has dissected the game has given the part enough scrutiny, but now that this is out, the gears are moving again. I know it won't wake him up, but at least it feels like we're doing something by hopefully learning how this happened, and how it works. Keep in touch.
Date: 4/10/15
From: Kate
To: Boris
Subject: Is this a good idea?
Boris, I think we should've just kept this transcription of the journal between us. It feels like we're exploiting what happened. I get that Tyler wants to take up the reigns and continue getting these stories online, but why? Some of this stuff is terrifying, and it's happening to real people, and here we are, copy-pasting it onto a website for the entertainment of others. I think we should take down these stories until long after he's woken up and these incidents are in the past.
Having said that, I do have to ask… Have you made any progress?
Date: 4/11/15
From: Boris
To: Kate
Subject: RE: Is this a good idea?
Believe me, I have some misgivings about sharing these (somewhat) publicly as well. On the other hand, we may just hook someone else out there like Tyler who could help us, give us another clue. It's possible other people have had similar experiences or may even have some distant link to this shadowy organization. I think, at least until we have more answers, we should at least keep these stories on the deep web. Tyler and I have already gotten some good leads.
Yes, I have made progress. The seller of the alternator (which from now on, while not entirely accurate, I will ominously call the "engine") has finally opened up to me some and I may be able to set up a public place meet-up. He is quite paranoid and I get the impression that his self-imposed exile from society is a consequence of his ownership of whatever these devices are. Let you know when I find out more. It's finally starting to warm up here and I feel "inspired."
BTW, how is Jack doing? I haven't heard at all from him but I know he was also involved in the Kiddie Land story. You seem to be more concerned about all this.
Date: 4/11/15
From: Kate
To: Boris
Subject: RE: Is this a good idea?
Jack wants nothing to do with any of this, like, at all. He's starting a family and has his own life concerns. I'm only worried about our friend's health and, admittedly, I'm still kind of mildly interested in Tyler's findings. I just don't think any of us should get physically involved. It's too dangerous. For god sake, this all started with a toy gun that supposedly blew up a kid!
Date: 6/20/15
From: Boris
To: Kate, Tyler
Subject: Meeting up!
Guys, it's happening. It took some pushing, but I got the seller to agree to a get-together. The agreement is that I can't say anything about him, other than the fact that his father worked for these people. Unfortunately, he's been deceased for over a decade, and was a divorcee who barely saw his son to begin with. Sounds like some Area 51 employee-dad type crap. But the seller must still know something we don't. Will fill you in where this goes.
Date: 6/20/15
From: Kate
To: Boris
Subject: RE: Meeting up!
Sounds good.
Date: 6/20/15
From: Tyler
To: Boris
Subject: RE: Meeting up!
F yeah, man! Progress! You going to snag one of those babies for me?
Date: 6/21/15
From: Boris
To: Tyler
Subject: RE: Meeting up!
No, Ty. No SCP branded computer hardware for you.
Date: 6/26/15
From: Boris
To: Kate, Tyler
Subject: Details
All right, so here's how it went. First of all, temper expectations because I didn't really get any more information on the device itself. He didn't bring any units from his collection, but we both know what they look like and he did confirm a few things. The "engine" is completely unmarked. Even under a microscope, there's no writing on its circuit board, capacitors, magnetic coils, or anywhere else. It weighs about half a pound and is the size of a computer mouse.
There's nothing hidden inside the device, so its secret must have to do with the printed patterns on its circuit board, but we can't decrypt anything from it. The VCR says nothing about the component in its BIOS screen, so it's like the thing is invisible hardware, and yet it won't start up without it. It's a phantom, unique piece of machinery. I don't think we'll ever find out more about it without finding a new source of details. And while I can't share how many units he has left and locked away, it's definitely more than one and much less than a hundred.
The meeting was brief and though we didn't speak all that much, he did pass on a piece of potentially useful knowledge. He's read the stories, and while he didn't know anything about the first three and only a little about the game incident, through his dealings with the its online community, he seemed to be a little more interested in the idea of Kiddie Land. I have a feeling he may know something about it, just by seeing the way he thought before speaking on the subject. If he's keeping a secret, it may take a little longer to get it out.
Anyway, here's what he gave me: He knew nothing about his dad's job, but he thinks he worked with a factory in Pennsylvania, where he still lives. I can't say what part of the state of course. Keyword here is worked with. So that implies a delivery driver perhaps? Contractor, repairman, outside technician? His dad was a secretive person. Point is, he did have some degree of contact with them. This alone is pretty big, guys. I spoke with someone who had a dad who worked directly with these people. It's like this group is suddenly real, you know? The previous events have a foundation now. They're solidifying.
But, damn, the implications of a truth like that…
So, the units lingered in a locked crate in a big old safe in a basement for years. They probably weren't supposed to be there for more than a day, but it just so happened that his dad had a suspicious car accident and never got a chance to move them, and somehow no one knew they were there. I think circumstances just came together to give us this link. He wouldn't tell me how he heard of and got into contact with the Fun Bunn group, or how he knew he had the missing part we needed. We need to know, but I didn't want to press too hard at our first meeting.
I'm driving back to Buffalo now. Hopefully he'll give us even just a little more in the future. My attention is needed elsewhere for a bit. I have some family matters to tend to. A consequence of the ongoing conflict in Ukraine.
Date: 6/26/15
From: Kate
To: Boris
Subject: RE: Details
Hope the family (and/or estate?) you have in Ukraine are doing well. Thanks for the info… But I wish it could've gotten us somewhere. Just more questions.
Date: 6/27/15
From: Tyler
To: Boris
Subject: RE: Details
Oh, crap. PA, huh? Dude, I bet that factory was in Centralia. That's some Silent Hill shit right there.
Date: 6/28/15
From: Boris
To: Tyler
Subject: RE: Details
There is no way it would've been in Centralia.
Date: 12/24/15
From: Kate
To: Boris, Tyler
Subject: Merry Christmas
Hey, you two. Hope your holidays or whatever you want to call them/celebrate are going better than mine. My extended family is not fun to be stuck around. My thoughts have been mostly on [redacted]. He's been in a coma for over a year. Can't imagine what that's like. I guess, and hope, he has no sense of time, so I mean what it will be like when he wakes up. All that time, missing.
Ugh. We need progress, but I don't think we'll ever find it. I don't know anywhere near the number of things he and you two probably do. I imagine you've dealt with so many dead-ends and waiting games. Does this one feel different?
Date: 1/8/16
From: Boris
To: Kate, Tyler
Subject: Progress (LOOK AT THIS)
I'm a reserved person. I don't like hyperbole and jumping to conclusions.
But the seller just sent me an email out of the blue with a small story and THIS attached.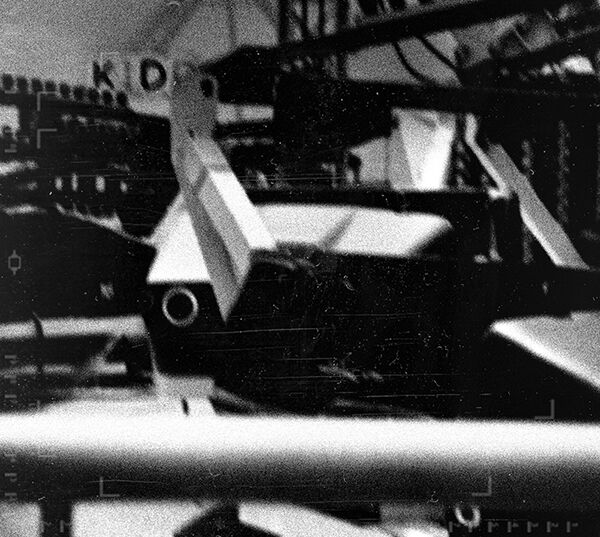 [A black and white picture taken on microfilm, showing a spinning theme park ride with the letters 'KIDD' in the background]

Did it jump out at you?
Now, this could be fake. And if it's real, that might not be an entrance sign; it could be a display for a ride of some kind. But that's clearly a second D after the first. How many amusement parks or rides would start with "KIDD"? Okay, there are actually a few real Kiddie Lands out there, but why was this shot with microfilm, probably covertly? It's strange. We don't see much of the park, but in the front, that's definitely one of those spinning rides that goes up into the air and not random cars or something. Each time I look at this, I'm more convinced that it's some form of Kiddie Land. And then there's what he wrote:
This is the rest of what I can give to you. Nothing more. Don't try to contact me again, either. I'm abandoning this email address and moving to another state. It isn't you or your game group that's led to this, as I've been planning to leave for a while. Just too many memories here. But I figure that if I'm doing something that will make me a little safer from anyone who knows of me, I might as well take the opportunity to get out a few things I was too afraid to before.
I grew up in a small rural town, so all the kids pretty much knew each other. We had a bit of a local legend: An amusement park out in the middle of the woods. With these being the days before GPS and Google Maps, we didn't have an easy way to track it down. The story of this place persisted for years, until the kid we considered the coolest in school claimed to have found it. I was one of the few students that both believed and then followed him.
We didn't know it would take so long to find. We left in the morning and didn't get home until past sunset. We got lost three times. We were exhausted and relieved to be back in the neighborhood before nightfall.
But we found it. Unlike in the story, it was a real l place. Now, I'm a bit older than you guys, and this was in 1985. I've never gone back there and if online satellite maps are to be believed, it no longer exists. Here's what I can tell you.
We couldn't get close since barbed wire fencing surrounded it. We couldn't see any entrance gate either, but we only got a look from one angle so who knows. It had no roads leading to it, no parking lots, no visible working lights. Couldn't see any signage, either. The "park" was compact and obviously not functional. That's the thing. It was fake. We could tell, even at a distance. It was all wood. Rotting wood, with faded and chipped paint. Buildings were façades or clearly empty shells. The rides were immobile, also made of wood with minimal use of steel, by then rusted. No room for walkways.
The place wouldn't even be functional as some giant set for a movie. If I could describe it, it'd be more like something meant for a shadow box, like for a two-dimensional background in silhouette. Compact forms and shapes to give the impression of a big park in the distance. Think of how Disney World can make the castle look much bigger than it is with clever optical architecture tricks, and then take that to the extreme.
If this place wasn't demolished later on, it has to have rotted away by now. But there are a couple of other things to note. Again, no roads, but there was a train track of all things that ran parallel to the fake park. Completely straight against it, just a few feet from the security fencing. It came out of and returned to the overgrown deep woods, but the track itself seemed maintained, still serviceable, lots of railway gravel. But no idea where it would've connected to a main line.
I found the attached picture in my dad's safe, among the very few possessions from his office that whoever he worked for let him take home. It's from a piece of developed microfilm that was stashed away inside the wall of a cardboard box. I only found it when it slipped out after I happened to tip the box while moving it. I don't know how it got there or who took it, or if he even knew about it. I scanned it and enhanced it as much as I could, but there isn't a lot of detail. I assume it wasn't meant to be taken. I have no idea how this all relates to the Kiddie Land in your stories. But it was definitely a real place, sort of.
One last thing. I've never tried to find it, but I've picked up local stories since I was a kid about people hearing a strange radio broadcast at random hours when in or near the forest. I don't know what it plays, but it adds to the strangeness of those woods and I thought it was worth mentioning. I think that's pretty much all I got for you. If I find out or remember something really important, I'll contact you again with my new email, but I doubt that will happen. So in all likelihood, this is goodbye. 
And that's it. What do you two make of this? Kate, I'm thinking of your old photo series of closed amusement parks, and Tyler, your knowledge of strange events and conspiracies and wild theories… Well, you see what I'm getting at. I'd expect you both have some input to share.
Date: 1/8/16
From: Tyler
To: Boris
Subject: RE: Progress (LOOK AT THIS)
I'm speechless and freaking out here. Sorry, I got nothing for you but a WTF?
Date: 1/8/16
From: Kate
To: Boris
Subject: RE: Progress (LOOK AT THIS)
Not sure what to say. If this is real, while still fake, that's pretty crazy. But I don't know what it all means. Kiddie Land still sounds like a pretty generic theme park name, right? Like you said, the picture could just be from a genuine place. And an image like this can just be photoshopped from someone's snapshot. Still, the other guy doesn't sound like he'd make this up, and he has been giving out those "evil little gadgets," so I'm stuck somewhere in between.
But do keep researching this. I'm very analytical and skeptical of everything at first. If you do get something really solid, I might just have to go find whatever is left of this place myself. You know, for science. And pictures.
Let me guess. It's somewhere near Centralia?
Date: 1/9/16
From: Boris
To: Kate
Subject: RE: Progress (LOOK AT THIS)
As I've already told Tyler, Centralia has nothing to do with this.
It was just a town that is now all but abandoned because it has an eternal coal fire under it and inspired a classic horror game franchise, guys. Nothing that special.
Date: 2/29/16
From: Boris
To: Kate, Tyler
Subject: Think I've tracked it down
[Rural Pennsylvania coordinates redacted]
See those woods? That's where I'm going. Who wants to join? Could be a bust, nothing to see. But there might also be something out there. I'm going in about a month, when the weather is warmer. Bringing plenty of equipment. So, either of you want to go looking for scary stuff in the middle of nowhere?
Date: 2/29/16
From: Tyler
To: Boris
Subject: RE: Think I've tracked it down
Whoa, how'd you find it? I'd go, if I weren't so busy at home right now. Sorry.
Date: 2/29/16
From: Kate
To: Boris
Subject: RE: Think I've tracked it down
Small town, a rail line that I can see might've once branched off into the woods, and a big vacant site in an industrial area where a factory could've been? I can see why you settled on the area. Again, the idea that there might be interesting stuff out there to take pictures of is the clincher for me. But I just have some reservations about going on this trip with someone I still don't know that well. Convince me even more within the next two weeks that you're a trustworthy guy, and we'll see if I book the flight or not.
Date: 3/1/16
From: Boris
To: Kate
Subject: RE: Think I've tracked it down
Ah, Kate, I am quite the gentleman, I promise you. I don't want to go at this alone, and would love to have a partner—guy or girl. Besides, dating or even just hitting on anyone is not on my mind right now. Not a priority. If that's what you are even concerned about. Perhaps we can chat a little, get to know each other more, as friends? I'm a professional about everything I do. No funny business.
Date: 4/2/16
From: Kate
To: Tyler, Boris
Subject: Heading Out
Typing this at the airport before I take off. Who knows why we do the crazy things we do, right? Here I am, in pursuit of something I barely know anything about out in the middle of a state I've never even visited, with a computer nerd at my side (it's okay to call you that, right?). Ty, I'll be sending you a field report on how it goes, if there's anything to report at all.
Date: 4/2/16
From: Tyler
To: Kate, Boris
Subject: RE: Heading Out
Okay, love birds. I'll hold down the fort. Call me if you need any outside help. I don't have the power to send a rescue copter to you with armed mercs, but I'm otherwise pretty good at finding things on the internet and such.
Date: 4/2/16
From: Boris
To: Kate, Tyler
Subject: RE: Heading Out
Ty, you've seen way too many movies and TV shows. I sometimes wonder about your perception of how the world works. Also, it's totally possible to go out into the woods with a nice lady who you have a purely platonic friendship with in your search for an urban legend, cryptid, or remnants of a scary internet story. Just look at what the guys and a girl from The Blair Witch Project did together.
Date: 4/2/16
From: Tyler
To: Kate, Boris
Subject: RE: Heading Out
Dude, not the greatest example. Also, Heather (the actress) brought a knife to ensure she'd stave off any advances from Josh and Mike. Everyone knows that.
Date: 4/2/16
From: Kate
To: Tyler, Boris
Subject: RE: Heading Out
I just landed and I open my email to see this conversation. Great.
I regret this already. And I forgot my knife.
Date: 4/4/16
From: Kate
To: Tyler
Subject: First Day
Tyler, attached is a text file with the events from the first full day of exploration. We're planning to go back once more, tomorrow night. I guess this is what can eventually go up on the site? I'll write a lead-up sometime later with background details. I wrote this while exhausted after a long day so it probably needs some editing. But you do that anyway, right? Clean it up all you want. Just don't embellish anything. I want it to remain objectively factual.
[Attached File]
After Boris picked me up at the Buffalo airport in his van, which he set up as a mobile computer lab, we drove south to the farming town of Chester Creek, located in rural northwest Pennsylvania. That isn't even remotely close to its real name, but I think it fits well enough. We arrived at around sunset, got our separate motel rooms, had a cheap dinner together, bought a few supplies at the lone outdoor shop in town, and did some planning and mapping.
I brought both my digital camera and my old film one as my "B" camera, just in case there was some kind of interference in the area that corrupted my memory card or something. Unlikely? Sure, but I don't want this to become one of those stories where the only photographic evidence didn't come out for some reason. I'm no avid hiker, but I'd say that I was prepared enough on all other fronts. And if I didn't get a picture of some leftover from the real Kiddie Land, then maybe we'd still pick up the mysterious radio station. So long as something weird or unexplainable happened, I would be satisfied. Not that I wanted any of this to be dangerous, considering all that's transpired already.
We left for the forest after lunch, Boris taking his van as close to the woods as he could. The bulky beast wasn't exactly meant for mountaineering.
Aware that when the group of kids from long ago came out here, they got lost all day, we came in equipped, with plenty of water and GPS-capable devices. Of course, they were just kids, in a time without modern conveniences. So we were possibly over-prepared. And luckily, Boris is actually quite an outdoorsman. He admits that while he doesn't get out often, when he does get around to it, he takes it pretty seriously and can stay out for days.
So, off the two of us went, into the woods looking for something that might not be there at all and never was. This was just a forest, not a park, so it didn't have any services or trails at all. We're also two people who aren't into small talk and are awkward at conversing in general, so we both stayed mostly quiet as we headed deeper and deeper into the woods.
Which was fine with both of us. It was nice just being out in nature, hearing it, doing little more than walking and taking pictures of animals and trees. I know how that sounds, but really, it's great to return to the basics sometimes. It didn't even take long for me to forget why I was out there in the first place. It wasn't like there was any evidence of anything nefarious.
After only about an hour on our plotted course, we found the clearing. Or at least what was left of it. There was a large swath of younger trees, and it didn't take too long to find the old train track, as nothing but tall grass had grown over it. It was in a state of heavy disrepair and probably hadn't been maintained in any way for at least twenty years. Most of the railway gravel was buried, the rail was rusting away into oblivion, and the wooden ties were rotting and covered in moss. We followed the line from end to end, to find it completely severed before it would've gone off into the older trees. They had gone through the effort to remove it completely from everywhere but the clearing itself.
With plenty of daylight hours to spare, we covered every inch of the small valley, kind of doing what I was claimed to have done in Florida towards the end of the Kiddie Land story itself—though in truth, I was never there.
And just like in that fictional account, we—at first—found no sign of anything ever being out here other than the railroad, which did still provide enough of an incentive to spend all day looking for more. It wasn't until Boris took out the light metal detector he had packed did we make any progress.
After sweeping it about for a while, we eventually did find a few sawed down and buried metal fence posts, still attached to blocks of cement. That was a good sign that there was indeed something out here surrounded by a fence, but it was all we ended up finding. We ate the food we had brought for dinner out in the middle of nowhere, chatted some, wondered what to do next, and then began to head back just before sunset. I took some okay photos, but nothing really worth sharing that would benefit the story, if there is one to find. But here's a decent one anyway. It nicely shows… just how normal the forest is.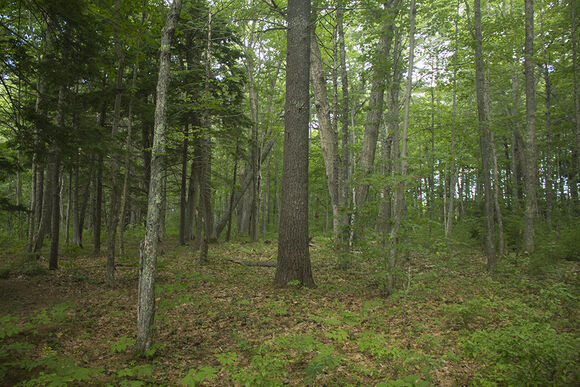 We took in one last look of the clearing before leaving, and maybe we both imagined what might have once been out there. There may have been nothing of great interest to report from the spot, like an old utility shed with a memory-altering machine for example, but we did experience something peculiar and possibly dangerous on the way back. At 6:30 PM precisely, our GPS stopped working. It went from seeing seven plus satellites to zero in an instant.
We were already halfway back to the van once it happened, but it screwed us up enough to delay our return. Between going off course and having to take longer routes, and Boris's constant pauses in which he tried again to find a good signal amid a little bit of swearing, it took an hour longer than expected to find the road again and the van—parked another mile away from our exit. We were never fully lost, and once we were further out of the woods we got a weak signal—just not one strong enough to get us a lock on our location again.
So by the time we were back in the van, it was pitch black out. Relieved and a little exhausted, I rested some in the passenger seat as Boris worked back in his portable lab. I had forgotten that the second half of all this was the strange radio broadcast, and Boris theorized that if it were active right now, maybe it had something to do with the local interference.
He tiredly scanned through all the FM and AM channels as I checked my usual sites on my phone, its connection also pretty weak. After two full scans, he didn't find anything odd, outside of a few truly bizarre local stations, one of which sounded like it was preaching for some religious cult. It was nearing nine at night and we were about ready to go back to the motel, but Boris wanted to try searching outside of the usual civil radio frequencies. Unsurprisingly, he had also brought a unit capable of picking up a much wider range of them.
Once he started searching with this bigger receiver—I think it must have been a custom made device—I became a little interested myself and turned around to watch. He explained that since he was now able to go above or under the AM dial available to us in a car or home stereo, he'd be able to find a more "exotic signal," if it existed. And he didn't have to search far.
He went downward first, and at 510 kHz, he picked up something faint. It sounded like Morse code, or maybe a numbers station. He did a quick scan of the other "nearby" frequencies, found that they were silent, and returned to the odd one. After hitting the big red record button on his laptop's audio program that had a line to the radio, he turned up the van's speakers, and we listened in. We looked back and forth at one another, exchanged curious looks, but otherwise gave it our attention. We only caught and recorded the last fifty seconds of the beeping, before it promptly ended, right at as the clock hit 9:00.
The van GPS suddenly began to see a full array of satellites again, and my phone regained its connection to the nearby towers. I'm not hugely tech savvy, but I know that a low-powered local radio station wouldn't cause interference like what we experienced. Even so, this one's broadcast hours must have had a relationship with the disruption. Too bad we only caught the last of it.
But it was the something we were looking for. Coming out here hadn't been a total waste of time, if you weren't into nature walks.
We listened to what was recorded a few times but it didn't tell us much, so Boris said he'd do some audio work back at the motel parking lot—which it needed, seeing as how it was very low quality audio, even for an AM station. With nothing else to accomplish within its broadcast range, we headed back. The only thing Boris really mentioned on the drive was that 510 kHz was once reserved for maritime use, so that ships could communicate with one or another or their harbors, but that it was seldom used anymore.
And that was it, really. I went up to my room once we got back, leaving Boris in his computer lab on wheels. I don't know how long he stayed in there, listening to and cleaning up audio and looking up codes, but knowing him now, I'd say he was up until at least three in the morning. He finally knocked on my door a few minutes ago to check on me, at 11:15 AM, and he looked like he just woke up. We'll be heading out there again tonight, but just to catch the full broadcast, assuming it happens again. We're going to talk about what he found out over lunch. I'm only here for one more night, so I guess I'll be writing part two after we're all done. Depending on how late we stay, I may not even get to it until I'm on the airplane heading home. And it might not even be interesting.
Date: 4/4/16
From: Tyler
To: Kate
Subject: RE: First Day
I read it and I'm a little intrigued. But I was hoping for more suspense and build up to something. Oh well, there's only so far you can stretch the truth and reality. I just hope you find something a little, you know, bigger up there. Even if it doesn't make for a good story, at least we might get a small clue on what happened to our friend. The one thing I'm curious about is Boris.
He might have something up his sleeve, Kate. That was the thing when I visited him. He struck me as the kind of guy to calmly listen or collect all the facts, formulate something, and then bust out with some grand plan.
So there's a chance that tonight might be bigger than you think. Some chance.
Date: 4/12/16
From: Kate
To: Tyler
Subject: Second Day
Ty, I'm sorry this has taken me so long to write… At least you know I made it home safely over a week ago. Maybe I should've called and had a proper conversation, but I was so rattled up, all I could manage were a few texts. I know you've been waiting patiently for the second report, so here it is. And, after you read it and before you ask, just know that I'm dealing with it. But that it's also something I don't really want to talk about anymore.
And nor do I want to write a proper beginning to all this. I'm getting it down and then not thinking anymore about it. If you still want to put it on the site, just include the earlier emails or something. Be selective and redact certain names and whatever else. I know you're smart enough to handle it properly.
What happened is not something I'd wish on anyone, and I grimly wonder how similar it was to what our friend experienced.
I don't think we should keep pursuing this. We should leave these people alone.
[Attached File]
I expected an easy-going evening, our activity little more than relaxing in the van listening to strange radio noise. Admittedly, the tech aspects present in all the stories so far is what has interested me the most. I've always liked lost or strange media, so sitting around listening for audio that I'm guessing almost no one else has heard can provide some excite, or at least suspense.
Boris couldn't reach any conclusions about what little we recorded on the first day, as the beeping we heard wasn't Morse code, so the next morning we went out to look for a stronger signal. He found an old unpaved road used by the Forest Service, and was confident we could use it to get further into the woods without the risk of getting caught. By sunset, we were deep into the forest, not far from a clearing we had investigated earlier. We planned to stay for the entirety of the two and a half hours that the broadcast ran, with all of the van's recording equipment rolling throughout.
At 6:30, like the day before, the broadcast began. It did come in better, but after a few minutes, it sounded like we had heard all it had to offer, and the van's loud speakers revealed nothing of much interest.
Boris did figure out one thing on our first night: The beeps were prime numbers—the first twenty-five of them, up to 97. It didn't sound off every individual digit, but rather counted the first number and then the next. So, for 97, it beeped nine times, paused a moment, and then followed with seven more. Then it descended back down to 2 and started over. The nature of the counting made it trickier to identify, but Boris still figured it out last night within an hour. The cheap phone audio quality back-and-forth sequences took exactly ten minutes to finish for a single count in both directions.
He kept recording and looked over the signal and its audio in various ways on his main, heavy duty laptop, while I just got bored and played a few games on my phone, with the monotonous sound going on and on in the background.
Then, after a half-hour and three full rounds of beeps, a heavily degraded, barely understandable computerized voice came on and made an announcement.
"Confluence initiated. Projecting. T-minus ninety minutes."
That was the best we could translate the brief message, as the words were very scratchy. Afterwards, there was strong local interference, and I lost the one bar I had left on my phone. The van's interior lights actually began to flicker, as well. There was something powerful and disrupting in the air.
"How did no one notice this before?" I remember Boris asking himself.
We don't know yet what exactly happens for those ninety minutes, but we figured that after they were up, the station would go back to putting out primes for a half hour again before shutting off for the night.
Boris monitored the wavelength, amplified the volume for a minute until our ears began to hurt, exhausted his analytical methods, and of course, just kept recording. But there was nothing to hear anymore except for a dull static. Something was still there, like a faint droning buzz, but at this point, anyone who would stumble upon the frequency would consider it dead air.
Once 8:00 PM came around and we only had thirty minutes left of whatever the "confluence" was, Boris looked desperate for answers or results and unlocked the metal cabinet in the very back of the van. I really couldn't believe what I saw him take out, or that he had brought it at all.
Attached to an old, small tube TV was the custom VCR from his garage back home, and the infamous tape itself. I wasn't even certain that they existed despite reading the story several times. Boris looked at me in a guilty sort of way, but still promptly plugged the machine into the portable generator he had brought, which he set outside to keep us breathing. By then, the temperature had dropped and a thick fog had settled in, making it feel even more like we were in the middle of nowhere.
Reflecting on the danger of the game and the stupid rabbit and what it could do with invisible waves, I protested, at both Boris having brought it at all, and also having the bad idea of turning it on. He agreed with me that it probably was a bad idea, but that this was also a time to take risks, if we were to find out anything tonight. After all, this was so far the most real, tangible experience any of us had with something that began decades ago.
He didn't jump straight to the game after getting the wiring set up. He had something else he wanted to see first, and powered up two of the old, throwaway laptops he had brought. He plugged a thumb drive into one of them, and copied over the single onboard file.
It was simply titled Rabbit—the same file that he still had yet to find a way to open or read, which was generated when an entity took over his house's wiring. Boris set up a wi-fi connection between the two computers, intentionally without a security key. He transferred the file in between the laptops several times, thereby sending it through the air, where just maybe, it would interact with the phantom broadcast.
I don't think there was any science or logic behind the experiment. He had long given up on using reason to explain these things, so anything was worth a try, and with the rabbit's ability to seemingly move around freely in any manner of signal, I could see where Boris was coming from. He checked for changes on the file itself, and scanned both laptops for anything that was newly generated, but found nothing. Negative results. He looked disappointed.
"There's only one thing left I can think of," he proclaimed, looking at the machinery next to him. But, as the reaction was a complete unknown and could be dangerous, he knew that it was best to ask, "Are you okay with this? I won't do it if you're not. But I'll just come back on my own tomorrow."
I remember asking if this was still worth it, if this had become an obsession, and if he was still thinking clearly. But he was certain that the being that took the form of a rabbit was somehow alive in the game, or at least came alive while it was running, and it had a connection to this fake, dreamlike theme park that only seems to exist in some dark, scrambled corner of my memories.
This was likely our only chance to find out for sure. We had come out all this way, and waited for years to find any clues about an odd occurrence that happened to myself and a few others down in Florida. And here was Boris, who entered our lives and had so far been our greatest asset in expanding our knowledge of a forgotten past. Despite the collateral damage left in the wake.
Hell yes, we're doing it. But I only actually responded with a, "Go ahead."
He turned it on. Fun Bunn came onto the English version's title screen.
And nothing happened.
The video camera the game required wasn't hooked up. Boris had brought it, but had no intention of attaching it, maybe considering it one step too far in the direction of danger. Either way, the game still had its strange influence on wiring, regardless of what screen it was on, or if it was being played or not.
But he wasn't actually done setting things up. After listening for anything strange coming from the small TV's tiny speakers, he turned the volume down, removed a portable broadcast antenna from his van's equipment cabinet, and after a deep breath, plugged it into the audio out port on the back of the VCR. The effect was immediate.
My ears started ringing and I lost my sense of balance. I quickly recovered from those afflictions, but my sense of place continued to feel a little off. My mind was in a haze, like I had just suddenly hit the forty-eight-hour mark of no sleep. Boris didn't like the feeling, so he soon unplugged the antenna, and I think we both felt normal again after a few seconds. He hesitated before trying it again, but despite what it did to us, I agreed to give it a second chance.
Once the game was being broadcasted again, and likely interacting with the local signal, I stumbled up to the passenger seat and tried to ease my mind and nerves a bit. There was a slight pressure on my ears, muffling what they heard, as if they were underwater. And I made more observations.
The van's interior wasn't that colorful to begin with, but I noticed that the colors that did exist… were a little desaturated, faded. And outside, in the fog, I began to see poorly defined shapes, like dark specters drifting about in the mist. That sight shook me up a little. Were we in a dreamlike state? Was this what our comatose friend experienced? Or was this something even bigger, like our reality or dimension beginning to merge with another?
How was it that simple technology like radio waves had these kinds of effects? As Boris joined me, taking his place in the driver's seat, my mind began to sharpen, like it was steadily adjusting to this strange askew world. I could tell that he was seeing moving forms out there as well, judging by his eyes' darting movement, but I don't think he saw the same ones I did.
We sat there for a few minutes, looking out into the dark night's fog in an altered state of mind like a couple of stoners. He turned off the interior lights so that we could see better in the dark, making the dozens of multi-colored blinking LEDs in the back stand our only stars. We didn't dare take a step outside, and Boris pressed the power locks button every few minutes to double-check the doors. Aside from a crack in the rear window that the cord ran through to reach the generator, we were sealed away from the strange reality around us.
Boris eventually wanted to move on, and snapped out of a trance to reach back and hit the power strip that kept all the broadcasting equipment going. The effects left me right away—though now, it was the normal world that felt odd, at least for a few seconds. But just before he had shut it down, I had caught a brief glimpse of a more refined shadow, straight ahead, like a hole in the fog that repelled all of the vapors. It had no face, but I felt like it was staring at me. It disappeared the instant our broadcast stopped.
I thought that we were done for the night. I was certainly at the proper ratio of terrified and fascinated, and didn't feel like tipping the balance in a bad direction. I figured Boris had more than enough data to look at by this point.
"We can go one step further," he told me. "Or we can stop now. But, again, I intend to come back tomorrow night with or without you and do it then."
Before I could ask him what he'd possibly try next, he punched a code into the keypad of the small onboard safe. I only expected him to have valuables in there, maybe some spare cash or identification.
Instead, he removed an exposed circuit board with a row of five—five—of the "engines" soldered onto it. I had never seen the component before in any form, but remembering the descriptions of the device from the emails, I easily recognized the things. I felt a wave of dread. As much as part of me didn't want to do it, the rest of me knew it was worth taking one final step, whatever it required. By now, I wanted to see this through as much as Boris did.
"This is a little project I've been working on, since I visited the guy who owned these," he explained, referring to a second trip he took to meet him— which he didn't even tell us about. "He resisted at first, but I ended up buying the last five he had. He already destroyed the rest."
He also implied that, if anything, at least he could feel confident that no one else would get their hands on the dangerous little peripherals.
His project was stringing five of them together to create an even bigger amplifier. The "engine" was an enigmatic piece of hardware that did something inexplicable to any electrical signal passing through its circuits, and it was the heart of all of these incidents. Now here we were with six of the relics, in a graveyard where part of their story long ago came to rest.
Just what the hell were we about to re-awaken, or bring to life for the first time? I still don't know, but typing this right now after seeing the result, I can at least say that we never should have taken it so far.
"Besides," he told me, "we'll draw so much power running all of this, that the generator will hold out for five more minutes, tops." So if we felt trapped somewhere, it would only last for so long. It sounded like a good risk minimizer.
And I agreed to it, so Boris isn't solely to blame for what happened next.
Expecting a stronger effect on our mental states, we stayed in the car seats and even buckled ourselves in. The instant he flipped the power strip back on with all of the units attached, everything went black—at first.
I was actually still conscious, and I wasn't seeing solid darkness. There was noise in the air, like television static. But it wasn't jittering several times a second—it was still, like film grain. Like the kind found in the very grainy black and white photograph that sent us out here in the first place.
I couldn't tell if I was dreaming or not, as my senses had fallen into a hyperactive state that felt somewhere between being awake and dreaming. I realized that I could look around and move, and when I raised my hands to see if they still existed… Well, they did, but they were also in black and white and grainy. Before I started exploring the place I had been taken to, I tried to find Boris. He wasn't there. Just like before, the visions we saw were our own. Maybe they were the same or very similar, but we were both alone.
I turned around, and found that I had been brought here staring at one of the trees, point blank, in an alternate version of the clearing. The forest was now behind me and wrapped around a vast field in what appeared to be a perfect circle. It was like the boundary of an outdoor area in an early 3-D video game. It was night and very dark, though the clouds and the leaves of the trees glowed bright white, as if this realm existed inside a photo taken by infrared film, which enhanced heat sources and certain colors. But in this case, the grass was pure black, though I could see every individual, glowing blade. The only thing I could hear at first was a constantly oscillating deep hum.
But all of these elements had nothing on the world's centerpiece: Kiddie Land itself. It was alive, bright, noisy, and full-sized, as big as any amusement park in our reality. It was maybe a half-mile away, with several spotlights that swirled around into the abyssal, starless sky. Rides and attractions lit up the night, including roller coasters, a drop tower, the twirling cars from the photo that go up into the air, and dozens of game stands. Once I could see the park, its distant sounds also began to filter in.
I was more scared than fascinated, but knowing I would be trapped here for the time being, I felt compelled to keep on the move and approach the imaginary amusement park that had eluded me since childhood.
I would've gotten to it faster if I hadn't felt compelled to keep looking behind me. Maybe it was just the fear of the same pursuer that chased our friend in a dream, but I also had the feeling that I was being watched or followed.
Once I got up to the ticket stand, I could easily confirm that this really was the park I thought I had visited as a kid. Its name covered the main marquee in various shades of gray that must have been colorful, if color could only exist here. But the park itself was empty of people. It ran on its own, fully automated, every ride in constant motion with no passengers. Fine by me; it wasn't like I would've boarded any of them, and in a way, I thought it made the place a little less ominous than it would have been had it all been quiet, dark, and unmoving. It was more important to walk through and see everything, hopefully finding another clue in the process about how this place existed, and who created it.
Carnival music might unnerve a lot of people, but nothing about county fairs or amusement parks or even clowns ever really bothered me, since I loved all of that stuff and went out of my way to take pictures of the places either active or abandoned. I powered through the empty and robotic venue; it was like I knew the layout well, despite only having ever "visited" it once. It matched the map that our friend had drawn, the description of it in his story, the shared memories between him, Tyler, Jack, and myself. But Boris had never visited it, and I remember suddenly wondering what he was seeing on his end.
I was almost on the cusp of accepting this place, and being okay with its unexplainable presence. But then it all changed and became too visceral. With the organ music coming from the merry-go-round ahead of me piercing the air, I stopped in between two rows of game and concessions stands, and peered ahead at the lone other figure that existed in this space. I couldn't move.
A girl of about eight, her back facing towards me, sat in her wheelchair as she stared off into the carousal's dancing horses and other monochromatic animals. A single balloon was tied to her wrist, and it was the brightest object in sight—even beating out the nearby flashing park lights. I knew who she was right away, and would shortly thereafter fully realize the cruelty of this realm.
"Maddie…" I could hear myself murmur.
Madeline. My older sister by two years. I don't care if I should change her name for the sake of my identity's safety. I'm not going to. I just can't do that.
I wonder. Did she visit Kiddie Land with me? Could we also have shared memories of it one day, question what it was, came looking like I did? I'll never know. I haven't seen her, alive, in over twenty years. Finding her here, in her wheelchair and wearing the same dress she wore during the last day of our theme park run… The mixture of emotions that I felt upon seeing her ghost put on display sapped my willpower, and quickly destroyed my confidence.
She then stood from the wheelchair—something she hadn't been able to do for the last few months of her life—and slowly turned around. She saw me and smiled, her eyes full of life and happiness, not hollow like I had expected.
Locked in place by fear, sadness, confusion, and some anger and maybe even a morsel of happiness, I watched her take a step forward. She passed right through the wheelchair, and upon touching it, the seat, chassis, and armrests all disintegrated into dark static and disappeared. She approached me, her smile frozen, her balloon still and the string stiff, like the air had no effect on it.
As convincing as she was at first, I fought back from being compelled by her. I wasn't going to fall victim to the trope of believing a deceased loved one had suddenly come back to life, only to end up being subjected to whatever malevolence they were actually filled with. And I could easily sense the hostility that this… thing had tried to disguise within itself.
I took steps backward as it walked towards me, smiling, pretending to be a living, breathing child. But I could see the grain in its eyes. She was nothing but a photographic memory, brought into existence by invisible noise.
What happened to time? I had been in this place for longer than five minutes. If this actually was all a dream, then my sense of time could have been off. I don't remember most of my walk to the park. All I could really recall were the rides—me, looking at them, one after the other. The memories were vivid, but there was no filler between them. I can remember each ride, but not the walking. The bumper cars, the haunted house, the test-your-might hammer tower, the… building marked as an indoor laser tag arena. Was that new?
And then there I was. Staring down Madeline. What if she was trapped here for all eternity—what if she was more than a memory, and this was her actual soul? In this universe that lacked any reason, anything might be possible.
Suddenly, she disappeared into static, too. I stood there a moment longer, transfixed on the spot she just occupied. I noticed that the park's music was gone. The rides no longer made sounds. All had fallen silent.
Except for the breathing behind me. The scratchy, labored, heavy, deep breathing, exhaling scorching heat onto my back. It was already too late to try and run. Cowering down in fear would also get me nowhere. All I could do was turn around, to face the horror that had stalked me in the shadows.
In a bold move, I flipped around and gazed into the towering void of a being that had emerged. It was dark and featureless, its body a black hole that was the only thing truly solid in this world—as nothing, not even film grain or static, inhabited its form. The thing had arms and legs, but no hands or feet, and its head was nothing more than a faceless blob.
Its outline, however, was very energetic. Bolts of bright white electricity darted around its frame, giving the being a two-dimensional look. It was like seeing a growing flame burn a negative space into an old film reel.
Loud, raging noise that sounded like a blend of an inferno and a live power line shooting off sparks bled into my ears as the being seemingly fought to remain coherent, as if it could rip apart any moment from the great energies trying to escape its writhing mass. And even though it had no eyes, I could feel its piercing gaze.
Unlike our friend's dream with the rabbit, I didn't need to be turned into a kid to be frightened into submission by this entity. I was terrified enough as a full-grown, rational adult. The bravest thing I managed to do was take a futile step away from it, not even worthy of a precursor to an escape attempt.
That must have provoked a response, as its arms shot out and effortlessly maneuvered down to and then around my wrists. It brought them into the air, almost to the point where I'd be lifted off the ground. I struggled, but I wasn't just overpowered here—I had no power at all. I was a rag doll. I then watched as black static surrounded by a white, fiery glow began to cover my hands, and traveled down my arms. Or maybe they were converting them into that strange material entirely. The corruption moved quickly, and as it did so, the world around me began to collapse into a mess of more old television snow.
It was just me and the entity, which was turning me into a copy of itself, or taking over my mind, or deleting my very existence. I don't know. At that point, all I could feel was primal terror. I tried screaming out, but still, the only sound that could exist was the loud, burning static destroying the universe.
It spread past my shoulders, and started its way up my neck. Was I also on my way to a long coma? Was I about to lose my grip on reality? Or was this even worse? Why does such a thing exist, and what is its purpose?
But I'm here now. Typing this. Remembering what happened. So, with that reminder to you, the reader or listener, I'll go ahead and move to the end, since I did wake up.
The world disappeared, just before the void reached my eyes. I was back in the car seat, my heart pounding in my chest, the sounds of a generator whirring down and now unpowered hardware clicking off in the background.
Despite my struggles, I hadn't even moved—up until the point of waking up, where my reflexes, finally freed, took over and made me thrash about for several seconds. I remember gasping for air, banging on the window like it was a prison wall, feeling the sweat fall off my forehead. But, prior to all of that, I hadn't moved at all. Like Boris, I had apparently fallen into a deep, paralyzing sleep. When he flicked that power switch, the two of us turned right off.
After I was calm enough to rationalize my surroundings again, I looked at him blankly. He had clearly also been disturbed, but he hadn't fallen into a panic.
After relaying my experience with him, I found out that the entity that had chased him—which matched the description of my own—never caught him.
I think it's because he wasn't distracted by an amusement park.
He claimed to have only seen a vast, open, empty, dark field. No Kiddie Land. No ghosts. He just had the forest, the grass, the sky, and the… monster.
But none of what he had gone through was described to me until we were back at the motel, where my heart was still going more than an hour later. I knew our first instinct was to take the van and leave the place that had invoked varying degrees of fear in us, but I also understood the reasons for waiting.
The broadcast was still going on. And Boris, although not as traumatized as I had been, was in no condition to drive safely. So, following the longest five minutes of my life, we waited in the dark, cold, foggy forest. The van provided some vestige of security, if anything, but those minutes were agonizing. I didn't want to close my eyes or go to sleep, even if I had access to a warm bed and several blankets to hide under. I only wanted to purge my mind of what just happened, or failing that, take off running—an urge to escape something I felt was still chasing me.
Boris only said one thing to me, other than explaining his intentions to wait.
"Did you see it?" he breathed out at some point.
Not yet ready to tell him what happened to me, I only nodded.
Eventually, the rest of the night became a blur, and I managed to get out most of what I went through to Boris while the memories were still fresh. In a better state of mind than I was, he made notes on his phone. I could tell that what I shared affected him, but only a little. His analytical, reason-driven side was still going, even now. It was easy to see he wanted even more.
Not me. I left on my flight the next morning, and tried to get back into my daily routines, just to try and unscramble my mind. It's taken up until now to feel ready to get the rest of this story written. I needed Boris to send me his notes to clarify a few things and help me get all of my observations recorded here, since I did lose some details with the passage of time.
Boris stayed another three days, but in his emails to me, he said he made no attempt to interact with the signal again. He did listen to it on a portable radio to try and locate its source in those woods, but its strength was inconsistent. He felt like he never got closer to its broadcast point, and that it wavered, and only noticeably weakened once he was far from the clearing.
I know I'm never going back there. My search for Kiddie Land is over.
But, despite his own encounter with the true form of the rabbit—or the entity that projected it—he left unsatisfied. He never found a radio tower, or any history of there ever being one. If there still was a station somewhere, then someone would have to be maintaining and paying for it. So, his only conclusion was that in all likelihood, the station didn't exist at all. The repeating signal must have a different source. Maybe we'll never find out what that might be.
Boris gave up on trying to find out after an afternoon journey into the forest ended abruptly on his third day alone. He told me that his eyes suddenly locked onto an old man in a dark suit, maybe a thousand feet away, looking at him from the shade of the trees. Feeling exposed and vulnerable out in the clearing, he ran from the man before he could make a move, and promptly left the state entirely, not even bothering to pick up the few clothes he had kept back in his motel room. Maybe the man was just in the Forestry Service.
I somehow doubt it. If, by any chance, he was the same person after the mother in the LIZ-4 story, then Boris's abundance of caution was the right call. I'm going to start being more careful from now on as well. I was worried enough about Boris after I left him behind. Luckily for me, I was already in the process of moving from my old apartment and leaving Florida behind entirely, so it's a good time to brush away any footprints I've left behind. I think I'll try to speed things along some. And, to our friend, I'm still wishing you the best, but when you wake up, we need to have a little chat about this whole thing you dragged us all into.
I'll end things with one final thought on the "engine." I don't think we should only assume that the circuit board is what gives it its abilities. The magnetic coils on it could also supply its strange powers. Maybe it's something in the capacitors. It could be that the entire thing is made out of extraordinarily exotic materials. All I know is something like it shouldn't exist.
Much less be mass-produced in a factory for use in electronic toys.
Date: 4/13/16
From: Tyler
To: Kate, Boris
Subject: RE: Second Day
Holy hell. I'm sorry that happened to you. Nightmare doesn't even begin to describe it. We truly are dealing with something otherworldly here. And now you've got me watching my back, too. I think I'll double up on network security.
And guys, you're under no obligation to pursue this further, I know, but while you were gone, I learned about a place in Ukraine. I'll have details in a few days.