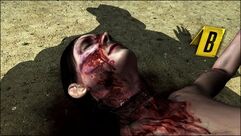 I picked up the local gazette this morning, and was rather shocked at what I saw. We don't get many murders in this small town, let alone any this gruesome.
"Young girl found mutilated." 
The headline declared. A photograph depicted the sheriff and other local law enforcement moving a body bag out on a stretcher under a police line, while next to it was some sort of image of the victim before her death.
She was pretty, with what appeared to be dark brown or jet black hair, and dark eyes by the look of it, though I couldn't be sure from the monochrome print. I recognized her, I had seen her around before, a waitress at the local diner. Of course, I guess that's to be expected; I mean, everyone knows everyone in small towns.
I remember her so very vividly: her smile, her dark eyes, the way her hair was always pulled back. Her name tag engraved with 'Jenna' visible against the glare of the morning sun. And she always remembered what I got, from the second time she had waited on me, not even asking before putting the order in.
I can still hear her calling it out in that angelic singsong mezzo-soprano voice of hers: two pancakes with chocolate syrup instead of maple, cream cheese instead of butter, a lemon danish on the side, and a glass of water with lemon. She was sweet. Beyond sweet, even. Like, considered dating her sweet. She was nice after all. But I guess all the guys were hounding after her. I'm sure some took notice of my attempts. Even my 'friends' said I had no shot. All those guys just chasing tail, while I just looked for someone to make me smile. Oh, how I cared... but then this had to happen.
It's just so odd, reading the article about her and thinking about those memories and all that had happened. And then what happened to her, someone so innocent. Young college age girl, murdered in her parent's home. Murdered... grotesquely. They said that she was nearly disemboweled from some sort of edged trauma, all but believed to be from a bloodied kitchen knife from the home laying at her side.
They said that several organs had been pulled out, but not removed. That some sort of monster did this. But they lied. They always lie. They say they don't tell you that one organ was taken to 'protect the integrity of the investigation,' but really they lie to keep people away from you. The others, they don't want you to see; they want to make you jealous. But they can't do that to me, not anymore. And I will show them, show all the other guys that chased after her, show all those scum... I told them that I would steal her heart. And now, it's mine to keep forever.
Community content is available under
CC-BY-SA
unless otherwise noted.