Every now and then, my thoughts drift toward the deaths of Lela and Raymond Howard. When that happens, a multitude of questions usually start to plague my mind. What could've prevented their demise? Did they suffer? How many chances to save them were wasted? How many warning signs were ignored?
But what really pains me to not know is...
...how did it all end?
---
Note: The following is a true story.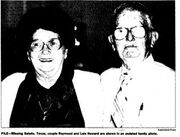 On Sunday, June 29th, 1997, elderly couple Lela and Raymond Howard from Salado, Texas, decided that they were going to a day festival in Temple, a nearby town. It was to be a 15 mile trip, and Lela was driving. The couple departed that morning, despite earlier objections by Lela's son, who had begged to drive his mother and father himself instead. Lela declined, saying "No, we know where to go. We go every year." Lela's son's concerns stemmed from the fact that his eighty-three-year-old mother was showing signs of Alzheimer's disease and was often easily confused at things. At one time, Lela even meant to show up at a local Walmart for morning coffee at 10:30 a.m., but instead arrived at 10:30 p.m., perplexed at why the sun was not yet up. Eighty-eight-year-old Raymond too was showing signs of mental deterioration, due to a recent brain surgery done to combat a stroke and head injury. Lela and Raymond, though, were not aware of their severe mental decline, and left for the festival that morning without even telling their other adult son, who lived just next door.
The afternoon passed and the Howards didn't return home. However, at a local Walmart in Temple, a greeter there remembered seeing Lela and Raymond coming in for coffee during the afternoon. After that, the couple's movements could not be accounted for. The several children between the two had become immensely worried for their elderly parents' safety, so they contacted the authorities, and a missing persons bulletin was posted that day. The Howards remained missing.
Three days later on Wednesday, July 2nd, a newspaper article was published in the Austin American-Statesman about the missing couple, titled "Elderly Salado Couple Missing On a Trip To Nowhere". It read: "Lela and Raymond Howard are on a four-day road trip into thin air. The Central Texas couple, in their 80s with diminishing health, somehow have turned a 15-mile journey for a cup of coffee and a party into a 500-mile-plus misadventure with no known destination." That same day, a deputy in rural Arkansas pulled over Lela for driving with her headlights off, as it was nighttime. Lela and Raymond were 500 miles away from their original starting point in Salado, Texas. The deputy later noted that Lela was "polite", "gentle", and "acted just like my grandmother". When Lela stated that they were trying to get back to Texas, the deputy noted that they were headed in the wrong direction if they were trying to return to that state, so he gave them directions. The deputy then asked Lela where she lived, but she could not remember. The deputy let them off with only a warning. The couple were pulled over again about half an hour later for driving with their high beams on. This deputy also let them go. Neither of the deputies knew about the newspaper article, nor that the Howards were missing persons. The Howards once again disappeared.
The next day on Thursday, July 3rd, there was another article about the Howards. They had allegedly been spotted at a farmer's market in Arkansas, and authorities in eleven states were on the lookout for them. On Friday, July 4th, another article stated that authorities had narrowed their search to three specific counties in Arkansas. There were no further developments in the search until Wednesday, July 9th, when the couple's story was covered on the CBS morning news show. Yet another newspaper article was published about the Howards in the Austin American-Statesman, making the front page. That article's editor, Denise Gamino, stopped by the Howards' house, and the signs of the couple's mental decay were obvious. There was folded clothing still laying on the couple's bed, as if they started packing for some sort of long trip. The television was unplugged and hearing aids were left behind in the bathroom, as well as various toiletries. Even though the month was currently July, the Howards' calendar was still on the page for February. Perhaps most notably, the Howards' cat Happy was left behind, essentially abandoned. The couple's children and grandchildren were apparently unaware of how bad their parents' mental health had become.
The search intensified, as authorities employed dozens of deputies, carefully combed obscure backroads and brush areas, posted fliers, and questioned many civilians over a very large area. Helicopters were even later used in the search, and the search area grew to 1,000 miles from Salado, Texas. By then one of the Howards' grandsons had offered a reward of $1,000 for his grandparents' safe return. Tips came flooding in after the CBS morning show, but none led to the Howards' discovery. The next day on Thursday, July 10th, one of the Howards' grandchildren remarked in a newspaper article, "The hardest part is thinking that they are suffering or need us and we can't get to them." Another bleakly stated, "I just don't think we're going to find them alive now."
Unfortunately, everyone's worst fears were finally realized on Saturday, July 12th, when the bodies of Lela and Raymond Howard were discovered in their car by hikers at the bottom of a 25-foot cliff, just outside Hot Springs, Arkansas. Raymond was still in the passenger seat, but Lela was about 20 feet away in a ravine, still clutching her purse and car keys. Apparently after the car went over the cliff, she put her car in park, turned off her headlights, opened the passenger side door for her deceased husband, and crawled away to die of her injuries sustained in the crash. There were no skid marks found at the top of the cliff, indicating that Lela's car had driven straight off the edge. A crash scene investigator estimated that the car had been going around fifty miles per hour on the stretch of road leading up to the cliff. Lela likely didn't see the cliff edge or was in some other way distracted, or even became momentarily confused and lost the ability to safely drive. It is not known for how long the Howards' bodies remained undiscovered. Sadly, the crash site where Lela and Raymond's bodies were found was within a zone previously searched by the authorities, but searchers could not see the bottom of the cliff due to excess brush in their line of sight. Lela and Raymond were later buried next to their respective first spouses.
Austin, Texas songwriter Tony Scalzo read the July 2nd newspaper article in the Austin American-Statesman in the midst of the search for Lela and Raymond, and he became inspired. He wrote a song with his alternative rock band, Fastball, based on Lela and Raymond's disappearance. It was titled "The Way". About the song, Scalzo said, "It's a romanticized take on what happened." Scalzo "pictured them taking off to have fun, like they did when they first met." Scalzo wrote the song before the Howards' bodies were discovered. The album containing "The Way", All the Pain Money Can Buy, was released in 1998, one year after the Howards' bodies were found. Despite "The Way"'s cheerful, optimistic sound, its lyrics are haunting:
They made up their minds and they started packing

They left before the sun came up that day

An exit to eternal summer slacking

But where were they going without ever knowing the way?


They drank up the wine and they got to talking

They now had more important things to say

And when the car broke down they started walking

Where were they going without ever knowing the way?


Anyone can see the road that they walk on is paved in gold

And it's always summer, they'll never get cold

They'll never get hungry

They'll never get old and grey

You can see their shadows wandering off somewhere

They won't make it home but they really don't care

They wanted the highway, they're happier there today, today


Their children woke up and they couldn't find them

They left before the sun came up that day

They just drove off and left it all behind 'em

But where were they going without ever knowing the way?
---

My thoughts again return to Lela and Raymond Howard barreling off that cliff in Arkansas. Unfortunately, I never seem to get any answers for my questions. I suppose that I can only guess. Maybe Lela had seen the cliff edge, but didn't have enough time to react. I wonder if she even had the mental faculties to function anymore. It leaves me thinking. What was going through their heads as their car plunged off the cliff edge?
Fear?
Confusion?
I'd like to think otherwise.
Perhaps, in that moment, it wasn't 1997 anymore. Maybe it was a much earlier time for them. Maybe their damaged psyches spared them from the sad reality. Perhaps in that moment for Lela and Raymond, there were no more medications, no more hearing aids, and no more doctor's appointments. No aching joints, no glasses, no operations, no pacemakers, no forgetting, and no more confusion. Maybe in that moment, and for their entire trip, Lela and Raymond saw themselves as a newly-wed couple, their young skin perpetually gleaming in the summer sun, Lela in her best white wedding dress and Raymond in his finest black tuxedo. Maybe they envisioned a "JUST MARRIED" sign hanging on the back of their rear window, and empty soupcans tied to their rear bumper. I wonder if they held hands.
Maybe when Lela and Raymond Howard drove off that cliff in Arkansas in 1997, they weren't scared.
Maybe they were smiling.
---
Written by Dr. Frank N. Furter
Content is available under CC BY-SA
Sources:
Community content is available under
CC-BY-SA
unless otherwise noted.