Aug 11
These paths are unnatural. I've been down them countless times, and they feel like nothing I've ever seen before. I mean, I've lived here in the city all my life. This is what happens when you lose your car, you find yourself in places you didn't know were there.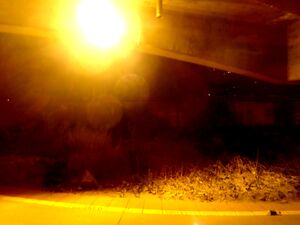 Totaled it. Rammed it right into a phone pole. Lost the job, can't commute, don't even have enough money for the bus. I live off pensions now, and my mind always goes back to the night I crashed. I had one beer. That was it. I never knew one beer could impair my function so much, but I've always been a lightweight. This was reflected in my job- before I lost it, everyone was chatting about my hangovers. One glass of champagne to calm the nerves and it was all over for me.
That's why I need to start writing this. Because what I've seen can't be explained. I step out the door, bored, maybe my mind is in a foggy haze from being cramped inside all day. Gotta get some fresh air, so I put on some good shoes and step out the door. I'm a nocturnal pedestrian, and although where I live is relatively urban, it's still empty and quiet at each intersection. Maybe one person, no cars. Light switches back and forth automatically whether there are cars or not. I've learned to time my steps so I get through every intersection, and I head for the river.
This is the thing. Never heard of this river. Trail that runs beside it is wide, well-built, clean and kempt, but it's in a shallow groove, an impasse, a dip, so I never would've seen it from the roads. Much of it is lower than the city. The trail swallows you whole and the numerous underpasses swallow you further. Under there in those decrepit tunnels where the only noise is the river swooshing and above and to every side there's nothing but blank concrete- well, somebody built this. I wouldn't know who.
You come out from the underpasses then, you see the buildings on either side of the canyon, stretching up, but you can't get to them because down here on the trail is a whole other world from up there on the streets. This trail is likely one of the last truly natural spots in the area, an urban jungle.
It stinks. Peculiar odor, wafts from the ferns and weeds growing on the shores. Try as they might to keep the pristine nature, the city still makes itself known here. Obvious, too, are the open pipes from which sewage and other assorted household liquids spill into the stream. There's one every fifty feet or so. It trickles down, carrying gray water from an anonymous sink.
That's enough for tonight. I'll be walking on this trail awhile. I've crossed over and discovered a place I didn't know was there. My whole life and I never saw it. Unbelievable.
Aug 12
The city is a living organism. I'm not sure where I first read that, but it's true. The roads are the arteries, the alleys are the capillaries, the vehicles are the blood cells and the buildings the organs. The people- well, we're the chromosomes, aren't we? In service to a living organism. It eats, it breathes, it never sleeps but sometimes on a lonely night like tonight it comes pretty close.
Don't know why I go down to the river at night. Could go during the day, but it seems that at night the area is more true to itself. Knows itself, understands what it's there for. It's a route for the sightseer during the day and a plunge for the insomniac during the wee hours. This is how it goes. Go down a few blocks, past the houses. Normal so far. Walk across the street, few cars out but not many, press the button and follow the little white lines to a block which is entirely fenced in, fence is covered in ivy. Turn right and walk forward. Within five minutes the trail will take a sharp dip. Once that's happened, congratulations, you've exited our plane of existence and you're on your way.
The world of public trails is not the world of public streets, and vice versa. They are separated domains. Trails rot and crack, they perish from a lack of use, but they were never meant to be used in a large capacity, so no surprise there. At night they gleam.
Saw three homeless men tonight. One under a bridge, covered in mounds of bags and boxes. Didn't see his face but he mumbled something as I passed him, couldn't hear it, too many cars grating overhead in their gasoline glory. I wonder how he carries those things around, too many to stuff in a cart. Didn't see him last time. I can only imagine what that must be like, to hold all your possessions on your back and then weary from the burden set yourself up in an underpass.
The second man was black, he hid in the shadows as I exited the trail, right below the ramp that slopes down. It was he who I pitied most of all, crouching there in the darkness. Couldn't hear what he said either. The city has too few resources for the lower class, it's an urban swamp. I should know. The apartment has a fly problem. They fester in the fridge and in the freezer, in every pantry they feed. I've bought flypaper, but it doesn't seem to help. Still they come, and still they die, writhing in adhesive and jars of jam.
The third man was silent. Bent over a meager bottle of alcohol, no luggage to be seen anywhere, just booze. This man, clad in a tie and suit, had seen better days. Maybe he had speculated a little too much, maybe he had a house and wife and children, but now he lay sprawled on the concrete like roadkill. Bent over, couldn't see his face, didn't say a word. Only specimens of humanity out there.
I get to the end, or what could be termed the end by any sane and reasonable man, because it would seem this sprawling network of trails and infrastructure goes on forever, and the buildings above grow more prominent. I see, I kid you not, old-timey smokestacks and shuttered factory windows, old semi-Victorian things from the 20s. These are far from the gleaming towers I knew.
But they are not out of place here. I am in an area of the city which has gone so long without development that it exudes a bygone era. It's my firm belief that archaeology doesn't only apply to sedimentary layers and caves- take London, Rome, France- cities that old contain secrets in the corners and truths in the bricks, from the catacombs to the Meta Romuli, these cities pile new structures on top of old structures until the whole thing becomes a mess. You can be in a hip nightclub one second, wandering through medieval dales the next. And this is not excusive to Europe.
No, this sedimentary effect takes place here in America too. History, 200 or 300 years of it, all there for your eyes to take in. Parts of the city I didn't know were there, now open to me from a simple public trail. Rotting industry, old gears, streets full of closed shops and lights that flicker because 30 years back someone forgot to pay the electric bill- all that and more, to be accessed through this peculiar vein. In some of those windows, there are machines that stopped running in 1938.
While walking this path the river can always be heard running alongside you, in fact you hear the river more than you do the cars. This water runs 24 hours a day, 7 days a year, it never slows and each underpass has a sign beside it- beware, rising water, flooding, it warns me. I don't see any flooding but one of these bridges in particular, halfway through, seems lower than the others, although I probably don't need to I feel like I need to crouch down when going through it, and it's difficult to imagine someone under this bridge during a flood- water soaking the feet and the ceiling too low. The river overstepping its boundaries.
I saw a documentary once, concerned the excavation of some ancient aqueduct, the explorers went in and had to keep themselves from ingesting the thousand-year-old water. Thousand years, imagine that. That water sat for not one thousand but two thousand years undisturbed. What sort of microorganisms could fester in that? I try not to think about it.
Another thing tonight- rats. Saw two of them. One hopped over my shoe, careens into the weeds, squeaking and sending my nervous system into overdrive. Something about the way the animal wriggles appears unnatural, even if a river is the best environment for a rat. These rats don't bloat themselves on junk food and wallpaper as house rats do, but they're enormous nonetheless, maybe they feel less shackled out here in the wild, unconstrained by walls. Size of a squirrel, if you can picture that.
I couldn't guess how long the trail goes, how many facets of the city I thought I knew so well the trail can reveal to me. There hasn't been a moon so far, but the lights under the bridges remain steady and I feel safe. Maybe something Freudian, the bridge is a womb or a mouth and it consumes me. I don't really know. After walking the trail I get to sleep easier.
There are I would say 20 or so underpasses altogether before you reach the point at which the trail approaches redundancy and "ends." Each one is labeled with the name of a street, but these streets are ones I haven't been on and have never thought of driving, arcane names. Only a glance, and then it's back to strolling, whistling, maybe humming a tune. Whole journey takes 2 hours. Is it worth it? I don't know, but it can be made by anyone. Public trail, public property, easy access, probably wheelchair-friendly. I wonder if I'm the only one who walks it.
The city is a living organism, but the life here is vastly different from the life out there. This is a primal area. It festers, it thrives, it is in many ways rotting and growing at the same time. Some stones fall out, one loon sings his sad song in the midst of the rocks. The sewage pours in and the bushes live on the sewage, they're gray but powerful, and underneath every bridge traffic can be heard, but only faintly, muted by the abundance of asphalt above. The area is muted.
Walking home, I see the second rat. Sits on a rock out there, silhouetted as the rapids rush by it, turned its head and squeaked at me. I was aware of its presence and it was aware of mine. Its eyes were luminescent and its fur was sharp, and I could swear it pricked its ears up, as if it was listening for something. No predators in the area, no eagles or something that could eat a rat, hence why the rats have run wild. Maybe it was listening to the traffic, but as I said the traffic is hard to make out, a whisper in the night. I can only imagine what it was trying to hear.
When I walk on the trail my steps are light and my breathing is light too, but when I get to the underpasses I can't shake the feeling of being watched from the shadows. By what I don't know. Only a sense that the waters hold more than they're letting on. They're jet black pools lined with streaks of silver, and like those ancient aqueducts, they emit an odor of filth. Call it the sewage or call it one too many candy wrappers- something is in there. It's pervasive and elusive, and it makes the walk unpleasant but not unbearable. It is a city river, regardless of how many trees grow on its edges- despite its primal state it is not unaffected by human carelessness. It is a reminder of a time when the land was unsettled and people were out in other places. If I were to go back to 1600 and see this, I would be higher, the canyon would be gone, the concrete bridges would be gone and I would be left alone in a woodland where the sky was blue and the forest was filled with strange noises.
As it is I walk alone at night under lights and stone, and the walls on either side of the river likely hold those sedimentary layers of human filth. Londinium may be gone, but it remains under London, and here too the waste of ages piles up and will someday be excavated. For now, however, it sits in waiting while rats clamber through it.
Aug 13
Flies keep coming in, dump their tiny bodies into the can on the strips but they're infinite. Clouds of them, have to shut the door to the kitchen and I only go in there when I need to eat. Opening windows doesn't help, they keep buzzing in and none of them leave. Everything is kept in Reynolds wrap and foil- flies can't get through those, I don't think, maybe after writing this I'll go get some Ziploc bags and clips. It's disgusting and I should probably go get some insecticide, but I hear it isn't very good for human health and it'd probably ruin all the food.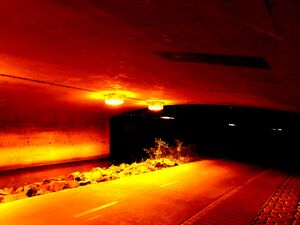 Needed to get out, right back down to the trail. My legs move me forward, my brain is for the most part empty, only concerned with what's directly ahead of me, and my eyes are always in a catatonic stupor, usually fixed on one point in the distance until I reach it, at which time I fix my gaze on another point until I reach that, and so on. Even a stroll becomes monotonous when you've got the blues.
I got to the trail tonight earlier than I have before, this time at around 6:00 P.M. while the sun was going down. Heavy breeze, shook all the leaves off, and there were branches on the trail. Kind of chilly so I brought my sweater. Not much of a sunset, no giant pink and orange cotton candy up there, just gray, maybe a few notes of crimson. Still, it was revealing to see the trail before the lights came on. Underpasses were even darker. Without the lights, they drip and moan and the wind, which as I said was furious and raging, makes unpleasant noises down there.
In this state I was also able to appreciate all the graffiti in the region, typical of any neglected area. Some of it was actually quite nice. I don't hate graffiti, and there are those who have a taste for it. I don't know the local ordinances, where graffiti is or isn't allowed. Probably isn't allowed here, but it happens anyway. Who would stop them? Spray paint on some of the bridges, other places out in the open, one light even had a tag on it. The city doesn't have any city-sponsored murals. I hear those brighten up a place. As it is the city remains with little in the way of art- a few words scribbled here and there, lots of penises, a Kilroy or two.
One piece caught me off guard. Large, impressive, a voodoo priestess bent over some shrine, sprayed all along a support. The waters rushed underneath her, and her visage caught me off guard, because she was a ways in and by the time I saw her, it was dark and the lights had come out, but she was especially visible in that spot. Indigenous, perhaps. A magic ritual carried out in brush strokes and spray cans out here late where nobody could see it, unless you happened to be walking the trail. Detailed? Yes, there was detail. Her every sinew was discernible.
There's a lot of light pollution here, so there are no stars, but I did see an airplane hovering overhead. I wonder who those people are up there, sitting next to windows. I'm a speck to them, probably unseen because I'm lower than the rest of the city. A dark spot on a white corridor, stretching way out into the night. Maybe the passengers on that airplane can see where this trail ends and begins, but I can't. I may never know how long it goes, but I'm not willing to find out.
As I said the end for me comes when the trail takes a sharp turn and you can see archaic buildings, but I looked around the corner and the trail doesn't end, exactly. It might be called something else, in a map or a guidebook it might have a different title, but at the end of the day it's the same trail, rushing off into the darkness, carrying few pedestrians and having its own special culture, one which I know nothing about. I simply don't have enough determination to walk that one.
The trail has some stunning metallurgy, in particular curved fences and spikes, structures from Brideshead Revisited. No statues, but fences, and they look good. The rails are sleek and polished, the paint is chipping off in some places but the rails hold, even if their foundations are cracked and the corresponding ramps lead to brick walls. The rails remain, while the concrete and infrastructure die down, and vines grow and tree roots uplift the cement. And everywhere tonight there were little bits of wood coating the trail, wind lashing out at the bark. Nobody cleans it up, nobody cares. Leaves and debris, and of course the usual worthless lotto tickets and discarded condoms. All there somewhere in the bushes. You can't have a pristine natural area in the midst of urban degradation, try as you might.
The voodoo priestess smiled out at me. Her detail, as I said, was impeccable, every strand of hair realistic. It was designed in such a way that from one side it could be seen, and from the other side she looked different. Those effects are from what I hear fairly common in street art, stretching and squashing to conform with perspective, creative coverings of corners and holes to account for the three-dimensional aspect of such an endeavor. The witch is from what I can tell the best piece on the trail- other underpasses only contain curse words and epithets, names in illegible fonts and gang symbols, but this woman was hewn from pure intention, with purpose and direction, and there were no tags on her- not so much as a stray Anarchy sign.
But people have been here. The signs of habitation are everywhere. None of the homeless men could be seen here tonight, they've probably moved on, but that graffiti is something I hadn't noticed before. Last night it seemed the supports and beams were blank and untouched, a dull yellow, but I've seen them in the daylight and they're covered in graffiti. Same underpasses, same bridges. I'm sure of that. The question is how they could've been invisible last night. I had gone as far as the priestess but I didn't notice her either. She sat there in the water and I passed right by, not giving her so much as basic acknowledgement. Her eyes are filled with flames and she's adorned with a necklace of bones and some strange tarot cards, the background is gray and a single strand of smoke wafts up before her. I don't know how long I looked at her. Maybe five minutes. I don't know if I've ever stood still that long to admire something, I'm not the kind of guy who goes to art galleries, but she caught my eyes and kept them until she let my feet move again with a spell.
Tonight the traffic was again less audible, the cars mere headlights on the roads above, their tires and engines drifting out. My hearing seemed fine, my footsteps were especially perceptible, every time I put my foot down the echo could be heard in one of those empty covered areas. It resounded and then disappeared among the endless gurgle of the stream.
The spots without bridges are hard to make out, there are no streetlights. The underpasses are the only oases where everything can be seen. You pass through one, darkness awaits, you pass through it, each minute tense, then you see a light up ahead, and it's another bridge, you pass under it and then it's on to the next long block where any number of things could be hiding in the grass. I could swear I heard a beatbox once, but it was probably a car stereo.
No rats tonight, either. Couldn't see any, couldn't hear any, no rustling. Wind died down about 8:00, gave way to a gentle rustle and then to a dead silence. I don't know if I've ever seen a wind just stop like that, but it did. It was wild a bit earlier, then halfway down it was empty. No noise, nobody else for miles, emptiness and quiet and the river running along. And the branches that minutes before had been scattered to and fro became stationary. I don't know what to say. I took off my jacket and tied it around my waist, and the rest of the night was still. Nothing is worse than the prolonged, insatiated anticipation of motion or noise. Only my footsteps, and every now and again I'd hum a little.
That said tonight was really something. I need to return until my problems are solved, walk out and expose myself to the elements, take my mind off the bills and debts and fines. Car accident takes a lot of paperwork and hassle. Lawyer still isn't answering my calls.
Aug 15
Last night was uneventful, not worth recording. A walk down, a walk there, a walk back, it all seems so repetitive, and yet every time I go down there it seems I learn something new. Facets of the trail I didn't notice before make themselves known. That's what happens when you visit a given area enough- the familiarity grows on you. Why do I feel as if I'll never become familiar with it, that there'll always be one desolate adjunct or one neglected weed-ridden corner I haven't seen?
Tonight it was something else altogether. I guess I haven't talked much about the walls surrounding the river yet. They're flat, stark, grey like all weather-worn concrete. They've been through countless storms but don't show much damage. Lichen grows on them, big orange splotches an armspan wide, and moss does, too. They're decidedly artificial, reminding the pedestrian that the river is in fact surrounded by human beings doing human things, yet from a quick glance it's hard to imagine any humans building such a lifeless chunk.
Head out the door, through the hallway and down the stairs. Rows of doors, 25-year old elevator that probably breaks numerous safety guidelines. You can almost hear the people sleeping in their domiciles and you feel out of place to be going somewhere at this hour. I never was much for conformity, I must admit. Down the stairs, out the door. I bring a coat.
Pass the streets, it's a bit moist out tonight, but nothing more than a light flurry, and certainly not cold. I walk by the broken-down shops and the low-class liquor stores, each marquee boarded up, all the lights off except in one bar where I can hear some drunks yamming it up. I can't see them, though. Hidden away in absinthe vapors I drift on, a specter of the night, with no mind and no form. The river beckons. Come down here, it says, and I obey, walking down the ramp until I'm at a lower elevation and the trees sway in the wind and I feel separated from all else.
Against one of those walls- now picture this, you're walking down the trail and stop under the bridge. Opposite you, where there is no trail, only a frenetic cluster of large rocks, propped up likely for irrigation purposes, you see a guy standing. You don't know why he's there, or what he's doing, and you can't even really see his face. He's not swimming, it's 12:00 and the water is freezing, and he's not even wearing clothes that would lead you to believe he was swimming. He just stands there, lit by those yellow urban lights, facing the wall, and he doesn't say anything and he doesn't move. Just faces the wall, heaped onto a pile of rocks, he crossed the river somehow, but his feet and legs look dry and he's wearing shoes. Just imagine that.
Before I said the trail ended, that it led onto another trail. The more I walk, the less convinced I am that that's the case. The boundary between the two adjuncts is getting harder to recognize, an indiscernible and inconsequential line. The streets go on, the tunnels go on, and sometimes on these late walks I feel as if I could keep walking and circle the globe, and end up exactly where I started. The trail strays further away from what we might call reality the further you go- and there are, I'm sure, many things along this infinite stretch I'll never have the pleasure of recording.
The sheer will of human beings. Asphalt developed in ancient times, brought over to the new world, troops and fleets of men out, painting the earth and dirt with this new substance, laying out all the roads and structures like dung beetles. The sidewalks are unlabeled. I won't know who built them, I won't be able to shake their hand. This trail is not art. It is an impersonal vessel.
Rocks stacked in towers on the water's edge. There's a new one for you. You see them on trails, benches- anywhere really if you open your eyes to them. Cairns aren't permanent, but their cultural significance and prevalence in places like these are always what amazes me. How many configurations of tower can one build? The wind and water will sweep them away, or they may sit undisturbed for centuries. Waldviertel, I tell you.
A little further on, there's a spot where the water gushes over a slick plastic tarp, too smooth to be natural. It courses like obscene gelatin and then settles once again in that silt. Rushing, flowing, gurgling in little eddies and tithes it goes on. Though it is running water, I wonder how much water settles down to the bottom. How many secrets those layers hold. If I took off my shoes and waded in, would the sand be so soft and fine that it would consume me, nothing to stand on? I've heard about places like that. Not quicksand pits, mind you, but lakes and rivers, perfectly normal-looking places, and you look into a swamp or pond and see a bottom there below the water. Then you step in, expecting to find a floor- but all you find is millions of particles of mud. The sensation from what I hear is a lot like picking up an empty bottle you thought was full- the muscles are temporarily paralyzed from shock, from a subversion of expectations. Your feet kick and the sand flies up, but the pond has no bottom.
Kept walking. I never feel as if anything is following me. They say that when you go out in these places late at night you experience paranoia- but say there is a homeless guy out tonight. What is he going to do? Bother me and have a 50/50 chance of acquiring some money, or stay put and sleep? No, the threats I feel aren't human. They aren't monsters and they aren't demons. The trail is the threat. It courses with footsteps and energy. It's been used and traveled.
Last thing. I get to one of these, it's not the one that's so low it makes you feel claustrophobic, but it's not exactly the tallest, either. On the wall facing me are inscriptions. They read "Do not enter, thing eternally closed," etc. These are rooms built with machinery designed to sustain itself for at least a hundred years, rooms off the trail used only by city maintenance workers, and there isn't even so much as a locked door. The places are bricked up altogether like Amontillado.
I slow my pace, I walk up to one of these, I inspect it a little. Blank wall, pure concrete, and I can't even begin to fathom who would try to make it in there. If it wasn't for the sign, you wouldn't even know there was a room in there. One tiny hole, maybe for ventilation. I look through it. Can't see anything. Sheer darkness. I step back. There are three of these rooms, apparently, each with a corresponding sign, or maybe one big room with three signs.
I shit you not, I hear a thumping sound in there. Something was alive in there, rattling, walking around, plodding, banging on the wall. Not a maintenance worker, they wouldn't be out this late and they wouldn't be banging. Machinery, maybe. Cogwheels, faucets, a hundred parts to that vast subterranean machine. The earth is infested with wires and metal. Still, I find it hard to believe that a hydroelectric machine, or perhaps one whose function is simple plumbing, could make such a racket. No breathing, but noises. I stand there, my eyes on the wall, on that tiny little sliver, then it stops, and the wall with the hidden room goes back to being a wall. Secret area back there. Few will ever see it, few will ever need to see it. It was built with one purpose in mind- and that purpose is definitely not human habitation. It was built to go in, check, and leave. Even the most stalwart sewer worker would feel cramped in a place like that.
I got out of there. Tomorrow night I hope I can find the same spot again. Put my ear to the wall, block out the river noise with my hand, and listen for something. Something is going on back there. Something is alive back there, and trying to get out.
Trying to get out.
Aug 16
Go down there again. Got to go down there again. I don't know how long I've slept. Maybe six hours. That's enough. In a stupor, a haze, I pull a carton of orange juice out and drink it. Untouched by the flies. They're on the walls, the food, the closet, everything else- but this one carton of juice they didn't manage to infiltrate. I swat them away as I head open, open the window in a futile endeavor to have them leave. They won't. They'll still be there when I get back, making every apple a festering swamp and every tomato a breeding ground. I need to buy trash bags.
I wander down. My footsteps are louder tonight than they've been prior, maybe because I'm paying more attention to them, and every time I enter a tunnel I can hear the water, how fast it is, how its sound bounces off the walls. Makes me dizzy. Keep going, says the trail. Pass under more of these, maybe you'll find what you want, either that or the sun will come up and you'll realize you were out too late. Insomnia, that's what it is. Insomnia is the driving force for most bad decisions.
I walk along, my mind a blank slate, the lullaby of the river. No cairns anymore, they're gone. Why wouldn't they be gone? Nothing lasts too long here, every night a new adventure. Someone assembles the cairns, someone knocks them down, jagged edges roaring on the shore. They were too big anyway. Keep my feet moving, though my mind be gone.
I need to clear my head of the clutter but there's trash everywhere, strewn around. Litterbugs. If I came down here say tomorrow night with a bag and picked it all up, would that matter? Probably wouldn't. Everything in this rotting bilge pipe is dead anyway. Death, decay, pollution- all things describe my surroundings. This creek is probably 88% whiskey and 5% discarded uranium, but you would never know, and maybe this brook feeds the water supply, maybe that's where the headaches have been coming from, who knows? According to Chernobyl uranium can do some mighty strange things.
Walked until I couldn't walk anymore, then I turn around and head back the other direction. Can't stay in the apartment, gotta get out, gotta get my exercise. Gotta make my way down there and make my way back every night, until the paperwork is sorted out, until the flies leave, until

Aug 17
How a man's mind wanders late at night when he's all alone. Faraway shadows, lights- man was not meant to be awake at such an hour. The city never sleeps, it's a living organism, but people do. People should. Too much exploration can be bad for your health. Make sure the pages are dry, keep them away from the shore. I'm going to stuff this in the opening of the rail. You'll know what to do when you have it, when you've perused it.
This is true. I don't know how and I don't know why, but I have spent 3 hours in the underpass. I looked at my watch. 3 hours to the second, sitting and waiting, watching the river, waiting for it to overstep its boundaries, to do as the sign says and flood the path. It hasn't yet, but I have a feeling it will soon.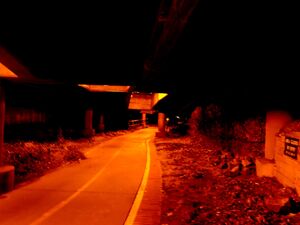 Encountered the homeless man, he was bent over the whiskey, still and silent like the first time I saw him. Nothing on him, no sign, no furniture, rags on his back and a bottle of some kind. Couldn't see the brand, probably beer. Hair was a mess, hat barely fit on his head, and he was skin and bones, too, I thought about avoiding him again but my curiosity got the better of me, and I went up to him. I have no money but the next best thing would be some human interaction.
He looks up.
In that second, everything falls apart. The echoes of the water are pervasive, they flood through my brain and scatter my memories, my vision is blocked and my mouth is dry. It can't be, but there he is all the same, dressed in a cheap suit, eyes mournful and empty, nose the same angle- right down to the last feature, it's me. It's me, Goddamn. There is no beggar. I've been bent over that bottle the whole time, shouting things at pedestrians and wailing mournful tunes whenever possible, and when I pass myself- well, I stay shut up. Who wouldn't? Mumbles something, locks eyes with mine.
"They're waiting out there for you," I say to myself. "They want to get to know you. You're the type of guy they're looking for." My grip on my wrist remains tight and taut, and I look over to the river, all the while glancing at the duplicate to ensure he doesn't disappear. The river runs smoothly over and under concrete blocks, past the walls and out into the open again, forever colliding, rushing, and within them are cesspools of mystery. Within the walls there are tubes and wires, and if some wretch was foolhardy enough to go exploring down there, he'd have starved in those unrecognized passages by morning. I stare out and the water keeps on- but something in my field of vision is askew.
It's there on the left, barely there, then it darts back down. Hairy, matted, something slick as Exxon oil. I hear it croon, it speaks to me on an emotional level. It's out there. No denying it. It always was out there, dark and fabulous, over the waterfalls it flew, downstream and upstream all the while singing. The thing is only ten feet away, and the trail won't protect me.
In dark corridors it sweeps, rustling the brushes, making the moss quiver in its shoreline pools. The sky is a deep jet black, and there are no stars but there aren't any clouds either, and as the thing makes its presence known the lights flicker, then dim, then extinguish themselves altogether, and I am left in the hollow emptiness with the thing. It comes forward, sighs. It is the river, it is the trail, it is the physical embodiment of this locale. There is no traffic tonight. None whatsoever. The streets are empty, the lights are out. Me and it, down here alone.
In a sense, there never were alternatives. Its breath is on my neck and its fingers caress my scalp- it is hard to see here in the tunnel, isn't it? Bricked in by walls in front and behind, the other two sides are open but they may as well not be. The trail goes nowhere. It does not lead to an exit, it only goes further in. This is a being of the sewers, a symptom of the wires and pipes, a thing of the night and a thing of the river, of the jet black cool river. Its every movement is fluid. Its appearance is elusive and effervescent, and it is every bit as filthy as its environs.
I look up at myself, grinning. Take a swig from the bottle. Pass it to myself. I drink, then drink again, and the lights flicker back on. The thing has left. Orange shadows everywhere. Hue of the city. Warming my innards, I sit down next to him. I throw a momentary glance at where I came from- I won't be going back there. Trail goes on and on into the darkness, into shadow and into light as the underpasses repeat a hundred times over.
"A moment or two," he says, his stubble accentuated, the tatters not a negative attribute but a part of his identity. My identity. "Just a moment is all it takes. One moment of your iris out of focus, one synapse gone haywire, one call from the deep. No regret, eh?" The bottle is brown, I slosh the liquid around and it foams. He grins, his eyes dark and covered by the brim of his hat.
"You said it," I repeat. We sit there a while, looking on into the depths, watching the water roar. As the hours pass, a lone rat crawls from the weeds. It picks up one soda bottle, knocks it around, then scampers back off into the grass. I no longer fear it. It's only a rat. Where I'm off to, there will be vermin. There will be sludge and there will be pollution. I will walk down rooms the general populace would never have imagined were below their feet, I will trod along passages designed for 1879 steelworkers- but more than that, I will see the side of this city nobody sees, even those who use this trail regularly. I will find the end, I will walk further into the heart of the beast than anyone before me would dare and I will see things which the human mind could not take in.
My duplicate stands. This is hard for him, his bones are tired and weak, and he has little strength. Could hit the gym more. Still, he'll do better. I have faith in him. I think it would be criminal of me not to have faith in him. His face remains mostly obscured by the hat, but then he removes it, and I see his hair. Old and weather-worn, it's been in back alleys and it's been in snowstorms. It's been through a beating.
Still holding onto the bottle, I shake his hand and he shakes mine, we exchange parting words and then he walks off, whistling an old tune to himself, and soon he is no more than a memory. It's early in the morning now, and his shadow fades away through the trees, off into the silence, out into the world. He's going in the opposite direction I've been going. Maybe he'll find what he really wants to find out there. I sit, languishing in the splendor of it all. Flat topography, fit for an urban king.
The thing is down there. I won't say it's not. As I write this, the pencil is getting shorter with each line and it's hard to write on this rock. The river has been going for the last half hour or so. Almost indiscernible, but it has, and I stay where I am, sitting, ankle-deep, bottle has floated away by now but I polished it off. When it happens I'll be prepared. When the thing comes up out of the water for the second time, when I'm no longer in a state of abject terror, when the water calmly rises as the sign says it's prone to doing and it covers me entirely, I'll be prepared.
Got to make it to higher ground. Graphite is rubbing off. I'll write the rest on the wall. Stand up, you old sot, get up against the wall there and wait. First the water seems a little more turbulent than normal, it creeps over your toes, spills over the rows of rocks and out onto the asphalt. The world is changed by this, perspective changes. Before it was a creek, now it's a river. Now this tunnel is not a tunnel but a tomb. Got to leave it once, put this in the railing, hope someone finds it. Might get soaked, but who knows, writing can hold. If archaeologists can excavate a Roman aqueduct, go through all that dretch, who's to say this won't be found by some ardent rollerblader when the sun comes up and the birds sing? Nobody can say it won't.
For the time being, the waters rush. They curl around my legs, they ripple in my ear, they sing to me and I will follow them when the time comes. Sign says the area is prone to flooding. It's not even raining. I suppose whoever's up at the dam didn't get the memo. Ha ha
Man across from me, on the other side of the river. He no longer faces the wall. His shoes are as dry as they were, he stands upright against the side, on top of the rockpile. He smiles, waves at me. I wave back. Common courtesy out here on the trail.
The streets are the veins and the trails are the capillaries. The trails are a world apart from the streets, they occupy a separate plane of existence. Say you don't believe me. Say you think you know your city. This is what I say. Today, right now, go for a walk. Don't walk in a familiar area. Go out to a neighborhood you're unfamiliar with, walk there every night. Try and familiarize yourself with it. Try and convince yourself that you're in the same city. No matter how much you lie about it, the fact holds.
There are two sides to any populated area. The exterior, the flashy, the gaudy. The side everyone knows. There's another side. Dark, mysterious, rat holes and fire escapes, brick walls and archaic foundations, outdated architecture and hideous juxtaposition. Take your shoes and give them a tour. It's healthy to balance both sides of the equation.
Up to my chest now. It happened quick, didn't it? Guy on the other side is gone, probably wasn't there to begin with. Rockpile is empty, but the lights stay on, though the electric systems behind the walls are flooded, the lights stay on and fill the underpass with yellow light. I'm being swayed by the current. This isn't a swimming pool. It's tugging at my waist, wants me to follow along. I'd better finish this.
In just a moment, the tide is going to surge out. It's going to consume everything below the tunnel. Probably not the streets, but it will fill this little man-made canyon. That's the subterranean aspect for you, the perks of being located just a few feet below everything else. The lights will stay on so I can see under there, but eventually I'll be carried off and the river will be larger than the Mississippi, a veritable body of water. I'll go through more underpasses, each one slightly different from the next, each one a brief detour on the road to the end. And the thing will be alongside me.
These tunnels will pass me by, but I'll always notice them as I journey along, adrift. They're the most noticeable part of any journey, even if their existence can be chalked up to convenience. The lights will always be on in them, and the orange hue will always be discernible, and the river will always gush forward, neverending, full of all the refuse of humanity and surrounded by ivy-coated walls.
Maybe it's Escher's staircase, the one with the waterfall. Who can say? You go up the steps, onto the terrace, back down and start your way up again. Physically impossible, geometrically possible. Perhaps the people don't know this because they've never bothered to look, to inspect the little details, each crevice and each pipe.
When the tides recede I will settle down into that infinite silt. It will hold me, solid, and I will sit there, lie there, oftentimes think about the underpass and the trail and walking at night. The silt will be forever, it will go down forever and go up forever, and even if I wanted to leave, to gasp for air, my arms will be useless. I was never much of a swimmer. The river will go back to being a creek, children will be able to walk in on summer days, trash will be deposited and collected by community volunteers, and the voodoo priestess will delight passersby for generations to come.
Up to my neck now, arms are straining. Got to walk up to the railing, put it in. That's about it. River knows, river always knows.
Aug 18
Was expecting flies when I got back. No flies. They're all out.