It was the best of times, and it was the worst of times.
I had fun, people. I hope you did too.

Well, guess this is me. Welcome to my profile page, and... well, welcome.
Sometimes I'll write a pasta, but that doesn't happen that often. Instead, I'll go around fixing grammar and the like on poor pastas. And when I feel like it, I'll pop over to the 'Unfinished Pastas' section and finish up some of those pastas.
Anyways, you might have noticed that most of my Creepypastas' titles are one of the last words of the pasta itself. Why? One, it looks cool, and two, I have an easier time uploading my pastas to the List (that 'The' rule is pretty darn confusing).
I'll be happy to play with you on PlanetSide 2. I play on Waterson, and my empire is the NC. You can find my player details here: http://www.planetside-universe.com/character.php?stats=41488p Due to technical complications I have taken a hiatus from PS2 and now I am frequenting the No More Room in Hell servers. Still PS2 is a great game that I hope to come back to once it stops crashing to my desktop every 20 minutes.
Pasta Reviews
All pastas graded by my rubric that scored on or above 50.
Creepypastas I've Written
Individual Pastas
These pastas are not related to one another.
Shout out to Skelly for formatting my FUBAR pasta list.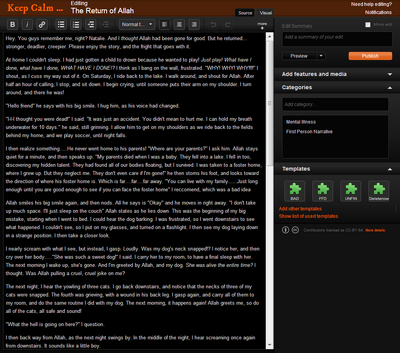 Songs

Template:YoutubePlayer Ratatat- Falcon Jab Template:YoutubePlayer Bon Iver- Holocene Template:YoutubePlayer Scattle- Flatline
Community content is available under
CC-BY-SA
unless otherwise noted.