(Right) Logo made by RuckusQuantum
Hello, dear. As you can clearly see, I am AGrimAuxiliatrix1, a self-proclaimed writer and critic. If you want me to read one of your stories and make a full critique of it, feel free to ask (although my schedule has been fairly busy). I've written 14 stories so far, and I've written over 60 in-depth reviews of various pastas. All of my critiques and Creepypastas can be found in the links below.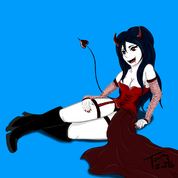 Vampire Depiction made by TheonlyFanTazy (right):
My Stories (Chronological Order)
Take a look at SnakeTongue237's Top 10 List (out of my first 14) stories:
Forgive Me- 2015 Creepypasta Freestyle Contest Entry. Subject: Back from the dead.
The Buzzing- 2015 Creepypasta Freestyle Contest Finalist. Winner of Group C. Subject: Technical Difficulties.
The Magician's Game- My personal favorite of my stories. Nominated for Pasta of the Month in September 2015.
My Parents Weren't Meant to Be Together- CrazyWords' Writing Contest Entry. Subject: Divorce.
Walk With Me- SnakeTongue237's Title Writing Contest Entry. The title was clearly "Walk With Me".
A Perfect Memory- My favorite short pasta I have wrote. Nominated for Pasta of the Month sometime in Spring 2015, my memory isn't the best.
A Game of Impostors- CrazyWords' Writing Contest Finalist Entry. Subject: An ordinary man's hallucinations. Sequel to "The Magician's Game".
Wednesday Night- Odd story behind this one. I originally made it to represent my feelings on Stephen King's stories: Great build-up with little payoff. I later realized that it was stupid to intentionally make a story with a poor ending, so I then deleted the story, only to republish it in this much improved version the next day.
In-depth Critiques: http://creepypasta.wikia.com/wiki/User:AGrimAuxiliatrix1/My_Critiques
Critiques Continued: [2]
Personal Favorites
The Pastel Man (Note: given recent information about the writer of this story, Vincent V Cava, and Mr. Creepypasta coming to light, I've chosen to remove links to Cava's work excluding this one. I continue to love many of Cava's stories, but unless the allegations against him are proven untrue, then I wouldn't feel very comfortable supporting him or MCP.)
My Grandfather Suffered from Dementia
Nightingale (Since removed, as it is going to be published)
Ad Nauseam, Ad Mortem, Ad Infinitum
There's Something Between the Gears
Community content is available under
CC-BY-SA
unless otherwise noted.