If you're trying to stalk me, stop it.
"I need something to sing about."
—Hayley Williams, Crushcrushcrush

Hi <insert name here>! Welcome to my profile! To share a little bit of myself, I'm from the Philippines. Other than that, I'm just a simple teenager that has a simple dream: To meet Hayley Williams and by any chance... Hopefully, become a rock-star myself.
The reason why I joined this wiki is aside from I love horror-related things, I love stories (especially horror) as well as writing (Although I'm not that good with writing haha). But sometimes I scare myself by reading too much horror stories. Wanna make me happy? Bring me to a Paramore concert.

The kind of people I hate are:
1. The ones that destoy/prevent me from meeting that simple dream of mine.
2. The ones that hurt my friends.
3. People that waste my time.
4. People who can't define the difference between real and shit music.
5. People who overuse their power.
6. I 100% hate people who are SO goddamn fake.
7. People who are too dramatic.
8. Attention seekers.
9. I don't like people who aren't honest with me.
10. Annoying people aka people who talk non-sensible shit that go nowhere.

The kinds of people I like and make friends/get along with:
1. People who are nice to me (I would be glad to return the favor if you are nice to me).
2. Humble.
3. Non-tyrannical-power-using people.
4. Friendly people.
5. People who likes good music and prefers real music.
6. People who like Paramore.
7. People that aren't bitchy to me or to my friends.
8. People who believe in themselves.
9. People with commonsense is great.
10. People who think before they speak (in this case, type).
Aaaaaaand BAM eargasms!!

My Friends

1.Thizzy/Thizzeh/Thizzydessity o' Mantern (WhyAmIReadingThis) ***
2.Cymbalestic/Crashoomba/Crashoombalestic (CrashingCymbals)  **
3.Skelleh/Skelelehtuns (LOLSKELETONS) *
4.Necz/Cap (Necra/Cap'n Jack Harkness)  **
5.Professor Lei Sama/Prof Lei/Cookie God (Lei Omaki) ***
6.Killeh/Kill (Kill1mes) **
7.Prami/Pramz/Pram (Pramirez351) ***
8.Bubblez/Subz/Subject (Subject M Test 2)*
9.One/Le-one (The-one123)**
10.Aron (Child of Mantra)*
12.Leet/Leetz/Leht/Leeht (DehLeetGuy) **
13.414 (41488p) *
14.SPH/Carcino/Carci (CarcinoGenticist)**
15.Dervie/Dervz (Dervall) **
16.Horror/Horrie (Horrorfan1)**
17.Brooke/Brookeh-sama (BrookeBattlesAgainst)**
18.Sep/Septo (Septogram7)
19.Vamps/Vampeh/Vampires (VampiresWillNeverHurtYou) ***
'Legend:'*
** - Best Friends
*** - Best Best Friends
About Me
Describe myself? Uh... well... I uh... This is a really hard question, damn. Well, I'm a certified Parawhore along with some of my friends in my friends list (Namely, Dervall, and Brooke). During chat, I give many references of Paramore like actually quoting the lyrics and communicating with others using them (most of the time). I do this like every time so please forgive me if you're getting sick of it (You can't blame me!).
Hmm what else... I don't care if people say they don't like me, I wake up to live my life not to impress them, I'm fairly welcoming most of the time, I'm talkative on chat, but I'm a bit quiet in real life, I try to be friendly, some say I'm nice, I help out others, I stay away from people who like bad music, I share things that are worthy of being talked about (Paramore's one of them, but only if there are people that like Paramore and they're on).
I guess that's it.
Videogames
Without video games my life can be compared to a cave man's... I love playing video games, especially horror, and action. Anyway, here's a list of my favorite games:
1.Resident Evil (2, 4, 6, DSC, Outbreak series)
2.Lollipop Chainsaw
3.Silent Hill (3 is my favorite)
4.Dead or Alive (3, 4, 5)
5.Rule of Rose
6.Clock Tower
7.Haunting Ground
8.Fatal Frame (one of the scariest games in history)
9.Tekken
10.Siren
11.Amnesia: The Dark Descent
12.Penumbra: The Black Plague
13.Slender
14.Happy Wheels
15.Ninja Gaiden
16.God of War
17.Tomb Raider
18.Obscure
19.Alone in the Dark
Arts
When I was in fourth grade I got a "Best in Arts" award. It's actually one of my hobbies, I draw. A LOT. At one point I wanted to be an artist. Until at one point, I knew I wanted to be in a band and be a rock star instead.
Singing
</span>Yeah secretly I love singing. I love singing around my friends since I'm comfortable with them with some things I can do. I don't like singing around my family. Not a very remarkable singer really.</span>
</span><u style="font-style:inherit;color:blue;">My vocal range? Well some say I'm a not lower than Bruno Mars but I can sing Paramore's Decoy in my Falsetto. Bruno Mars is a C6 and I think it's weird that my Falsetto can go to the highest note in Paramore's Decoy which is D5 (girly vocal range I have, I KNOW DON'T RUB IT IN MY FACE). *crosses fingers* Hoping it's not a bad thing.</span>
Music
Like every teenager, I like music (Alternative Rock usually) but every once in a while, I listen to other rock genres but I mostly stay on Alternative Rock, not into screamo and metal, everyone's listening to metal and screamo so I thought I'll go a little different, it's good to challenge the grain and go against what's normal.
I like music, I'm sorry that'll never change... Unless catastrophic music (aka shitty music) takes over the world of music, well there's gonna be some change lol. Here's a list of the bands I like:
New Found Glory 
Maroon 5
Goo Goo Dolls
Hinder  
Aerosmith 
Simple Plan 
The Corrs 
Smash Mouth 
AC/DC
Avenged Sevenfold
Green Day
Blink-182
My Chemical Romance
The All American Rejects
Evanescence
Deep Purple
Guns N' Roses
Maragold
Muse
Fall Out Boy
System Of A Down
Linkin Park
Panic! At The Disco
Three Days Grace
Set Your Goals
Pierce The Veil
Smashing Pumpkins
Sum 41
Favorite Paramore Songs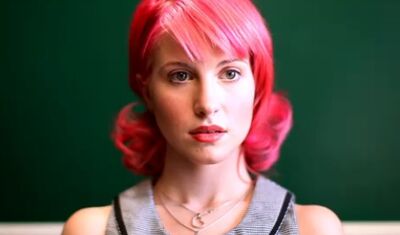 Paramore you say? Well almost all of their music is my favorite. But here's a list of my personal favorite Paramore songs in no particular order:
Miracle
My Heart
Brighter
Careful
Born For This
Conspiracy
When it Rains
Fences
Misery Business
Ignorance
Crushcrushcrush
The Only Exception
That's What You Get
Decode
Playing God
Still Into You
Pressure
Halellujah
Monster
Brick By Boring Brick
All We Know
Emergency
For a Pessimist I'm pretty Optimistic
Ain't it Fun
Well if you're gonna ask me what's my most favorite Paramore song, it'll be Misery Business. It's the Paramore song I can headbang just like Hayley. My other most favorites are Playing God, That's What You Get, Ignorance, Monster, The Only Exception, Crushcrushcrush.
Quotes and lyrics
"I love using big words to sound smart... I mean like, utilizing gargantuan idioms to fabricate intelligence."
"Some say it's not nice for a teenager like me to use profanity. Well I don't give a flying shit..."
"Bring it on douchebag! I'm gonna EFF. YOU. UP!!"
Paramore
"Second chances they don't ever matter people never change. Once a whore you're nothing more I'm sorry that'll never change!" -

Misery Business

"And about forgiveness we're both supposed to have exchanged, I'm sorry honey but I passed it up. NOW LOOK THIS WAY!" -

Misery Business

"

You say that I've been changing, that I'm not just simply aging. Yeah how could that be logical, Just keep on cramming ideas down mr throat." - 

Playing God

"Next time you point a finger I'll point you to the mirror."

-

Playing God

"It has to be so lonely, to be the only one who's holy."

-

Playing God

"It's just my humble opinion, but it's one that I'm believing. You don't deserve a point of view, if the only thing you see is you" -

Playing God

"You're not a judge but if you're gonna judge me, then sentence me to another life."  -

Ignorance

"And that was the day that I promised... I'd never sing of love, if it does not exist." -

The Only Exception

</span>
"Maybe I know somewhere, deep in my soul that love never lasts. And we've got to find other ways to make it alone, or keep a straight face.  And I've always lived like this, keeping a comfortable distance. And up until now I have sworn to myself that I'm content... with loneliness. Because none of it was ever worth the risk."  - 

The Only Exception

"I've got a tight grip on reality but I can't let go of what's in front of me here. I know  you're leaving in the morning when you wake up, leave me with some kind proof it's not a dream" - 

The Only Exception

"They taped over your mouth, scribbled out the truth their lies... you little spies" -

crushcrushcrush

"I'd rather waste my life pretending, than have to forget you for one whole minute" - 

crushcrushcrush

"Nothing compares to a quiet evening alone. Just the one, two of us who's counting on!" - 

crushcrushcrush

"Rock and roll baby, don't you know that. We're all alone now, I need something to sing about" -

crushcrushcrush

"The truth is hiding in your eyes, and it's hanging on your tounge. Just boiling in my blood. But you think that I can't see" -

Decode

Her prince finally came to save her. And the rest you can figure out. -

Brick by Boring Brick

Ba-da-ba-bada-ba-ba-da -

Brick by Boring Brick
Written Pastas
These are my pastas... You can read them if you want to.
Head on the Mirror 

(OC)

The Man in the Abandoned House  

(Another OC yay!)

Asylum Encounter 

(Trust me, this shit sucks)

Black Coat and Red Eyes  

(New one)
Fave Stories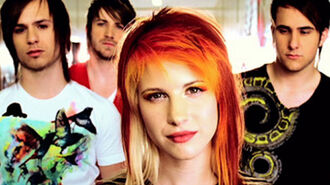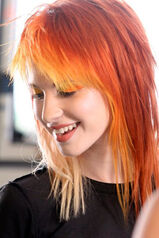 Photos (leedleedleedleedleDEE!!!)
Community content is available under
CC-BY-SA
unless otherwise noted.