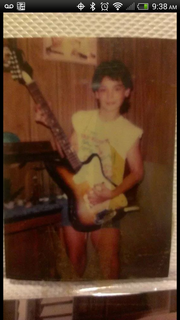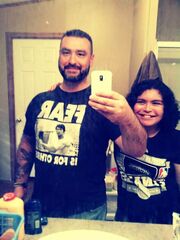 Hello,
My name is Michael.  I've been on here for a while.  Back (way back) in High School, I was always praised as a talented writer by my teachers.  Once I graduated, I stopped writing.  Many years later, after much procrastination and much living, I decided it was time to rekindle my old love for writing and discovered the world of Creepypasta.  Most of what I write about are actually strange occurrences and stories from my life as a child, teenager and adult.  I've always been surrounded by the paranormal.  It's just part of my life.
I'm a Husband and Father.  I Work in education now and have recently taken on the role of high school soccer coach. In the past I've been a security director, close quarters combat instructor, loss prevention detective, tattoo artist, professional tarot reader, substitute teacher and a few other things along the way.
I hope some of you enjoy my stories as they are personal.  Sometimes I may change names to protect identities as in my story "Chago".  This story actually happened.  I have had a few of my stories narrated and hope to see more in the future.
Update - 5.20.18
I'm at a point in my life where writing no longer has the same luster it once did for me. It was a form of therapy after my youngest Daughter passed away. I believe I need to live a bit more and gather more wisdom and good and bad experiences. After all, isn't that the best place to draw from when we write? I'm proud of most of the work I've done on here and met some amazing people and writers along the way.
It's been such a joy to see old buddies like Banning, Humbolt and others find success through their amazing work. I'm very proud of them. They had the drive to follow their dreams. For me though, I'm not sure writing was ever meant to be something I was to gain success at. Although, I do still enjoy reading stories and listening to the narrated works of a few of you on here now and then. Keep on truckin' guys. You are awesome!
My Pastas:
Deleted Pastas:
Chomp: The Real Story Behind the Sickest Video on the Internet (my theory about the reason this guy made this descision to do what he did)
The Cash Quimby Series (similar to Constantine but takes place in San Antoinio.  His hang out is at the bar of an old Goth/Bondage/S&M club I used to hang out at called the Cameo Theatre where he awaits nightly calls for help with supernatural beings.)
Clouds (I personally deleted it.  It nearly destroyed my marriage.  It won on shortnscarystories.com though when it was up)
There were several others but cannot recall the names.  They will never see the light of day.
My Pastas Narrated by Awesome Individuals:
"Pasta Noir: Dames, Slugs and the Hatchetman.  Chapter 1 - Hardboiled Blues" Narrated by Mr. Creepypasta

If That Dress Could Talk"  Narrated by DavetheUseless

"The Salt and Pepper Lady"  Narrated by DavetheUseless
"Ole' Broken Bones Pete"  Narrated by Plague Pasta

"What Really Watches You in the Dark" Narrated by DavetheUseless
"What Really Watches You in the Dark" Narrated by Glad Hatter