Stories That Need Attention
There are 2 pages marked for review and 1 page tagged for deletion.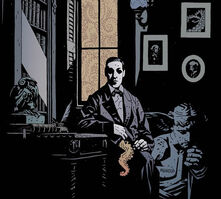 About me
I am a PhD student (mid twenties) who works part-time in advertising. I am an admin for the site and help enforce the rules and quality standards. I've written a few stories, of which Give it Everything and The Witch & The Fatso both won PotM.
Message me if you ever want anything. I offer reviews, although don't go in expecting praise. Praise doesn't help you improve. Only consistent application of thoughtful and critical practice where you identify your weaknesses and work to address them will lead to improvement.
Writing is hard, it requires work. Message me if you'd like a fresh and (highly) critical pair of eyes on your work.
Why did I delete your story?
Post it to the workshop and message me and I'll offer a review and explain why in detail.
Do you want your story back?
Message me and I can send it to you although you should NOT be writing your stories in the text box of a website anyway. You should always keep a copy on a word processor saved to your hard drive.
Any other questions?
Drop me a message on my talk page.
My Horror Influences
Robert E Howard (Conan)
Lovecraft (Writer)
Clark Ashton Smith (Writer)
Richard Corben (Artist)
Mike Mignola (Hellboy)
John Carpenter (Director)
Junti Ito
HR Giger (Artist)
SCP (online wikia)
Richard Matheson (I am Legend)
Anthony Burgess (Clockwork Orange)
Philip K Dick (Author)
Francisco Goya (The Black Paintings)
Dishonored (Video Game)
Doom (Video Game)
Dusk (Video Game)
Thomas Ligotti (Writer)
Eric Powell (Comics - The Goon/HillBilly)
Richard Corben (Artist)
My Activity
My CPW Stories
Below are the stories I have written listed in order of their publication here.
Give It Everything - A man's life is torn apart by the presence of an otherworldly dog. Has also had a good narration you can find here.
Be Good to Him - Fresh evidence related to the disappearance of a young man brings forth some strange facts about his potential whereabouts.
Mullaghbrack - An unpleasant couple travel to Ireland where they find something worse than themselves.
Ixodida - Ixodida is the Latin name for the order of arachnids known more commonly as 'ticks'.
The Shimmering Tree - Two letters with horrifying implications for the recipient. Has a narration here.
The Witch & The Fatso - Two stories that are interconnected and tell the tale of a cruel witch and the monstrous outcome of her behaviour. (NSFW & Very Graphic)
I Have Always Been a Monster - A weird tale that takes a massive amount of inspiration from Conan. This is a rough story that hasn't had much time to be polished but I enjoyed writing it anyway.
The Witch & The Wedding Gift - A sequel to The Witch & The Fatso.
Cuculidae - Cuculidae is the Latin name for the order of birds known as cuckoos. These birds sneak into other birds' nests and knock out one egg and replace it with their own. The other bird returns and raises the cuckoo's chick none the wiser at the expense of nearly everything in its life.
A Long Overdue Answer - A small story in the vein of The Shimmering Tree and part of the same series. This seeks to provide an answer to the Fermi Paradox as applied to the concept of time travel.
Marbh-Maigheach - A tale about the faer-folk and their wretched brand of dealing. This was inspired by my reading on Celtic myths and legends.
Bobblehead - An entry into the dark humour contest!
The Squirrel and the Garden - A young girl stumbles into a garden and makes a friend from another world. (A special thanks to JohnathanNash who deserves a medal for dragging his way through all my purple prose, not just once, but twice over. He and all the other CoD writers are hugely appreciated.)
Bottom's Up - A quirky entry for Helel's heavy metal competition that runs on the shorter side.
Please Use Responsibly - A detective gets to witness the beginning of our horrible end, as society's over-reliance on mindless clones takes a dark and gory turn. A shorter story that I enjoyed writing.
An Infinite Expanse of Arid White Clay - A man is stuck in a desert with some very determined parasites.
Reddit Stories
I Work at a Family Entertainment Centre, and I'm Pretty Sure the Ball-Pit Is Bottomless - a short and sweet nosleep style story.
I work at a Family Entertainment Centre, and I'm Pretty Sure the Mascot Shouldn't Move
I Work at a Family Entertainment Centre, and the Ball-Pit Keeps Trying to Replace Me
I want to take things to the next level, but the girl I'm in love with has some pretty big red-flags
Forty-two years ago I trapped a spider and it was the worst thing I've ever done
Something in the sea keeps leaving lures to catch me
I'm being bullied at school by a two-faced girl but no one will take me seriously
I stole my neighbour's dog after I saw him abusing it, but now I'm scared he's coming after me
The prison I'm in is a front for something far, far worse [part 1]
I have the power to pause time and move freely. I desperately need to know if anyone else has the same ability.
The prison I'm in is a front for something far, far worse [Part 2]
My Terrible Skin Condition Nearly Ruined my Life
Something in the sea is trying to seduce my autistic son
I'm a hotel manager and I wish our guests would stop using the mirrors
I'm a drug dealer and you shouldn't smoke what I'm selling
I'm a drug dealer and you shouldn't smoke what I'm selling [part 2]
I spent the last six months living inside an abandoned RV. This was not by choice.
Something ancient is alive in the permafrost beneath my town
The prison I'm in is a front for something far, far worse [Part 3]
If You See Me, Whatever You Do, Please Don't Make Eye Contact
Narrations
Useful Links
Comprehensive list of US v UK spelling differences
Kurt Vonnegut's Rules for Writing
Community content is available under
CC-BY-SA
unless otherwise noted.