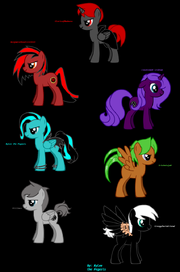 Hello, I am CreepyPastaFriend. But you can call me Creepy or CPF for short, welcome to my user page. I am almost always available in chat so don't be afraid to send me a message if you want to talk with me, I'm always looking for new buddies. 
My friends (awesome people)
Cupcakes8
Rylee the Pegasis
Mr.Kitty Cat
Esoteric Entity
Irishninja0
Deathgirl12
Just another creepypasta
Darkstride
HarleyQuinn x JeffTheKiller
Grimmiexlove69
Srgtd
IWillGertrudYourSoul
Subject D Test 3
Jane Arkansaw
Emily4ever
Fullmoon67
IAmPinkiePie
YourGuardianDemon
MyHelmetHazStickers
Here's some music:
Community content is available under
CC-BY-SA
unless otherwise noted.