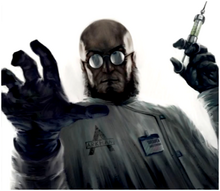 The name's Doctor Thomas Bleed, PHD. Legally I'm not allowed to call myself a doctor anymore. Most folks in real life know me by my real name, Anderson Steele. I like serial killers, body horror, cryptids, slashers, Lovecraftian entities, and the terrible and maddening realization that our existence is but a minor spec in an endless, hideous and uncaring universe populated by creatures so far beyond us we can't imagine them well enough to fear them. I also like ice cream and bad television.
About Me
Anderson "Doctor Bleed" Steele is a self-published author from Akron, Ohio. His first work, "Doctor Bleed's Misery Pit" a compilation of ten of his original works, is available through Lulu Press on Amazon and Lulu's own site. Steele has been writing for over a decade, and has loved to tell stories since he was a child. He writes primarily horror and crime fiction, though he's experimented with science fiction and satirical writings. The majority of his works can be found on the Creepypasta Wiki.
Steele is currently offering his services for writing commissions. His current rates are $20 per 2000 words. These rates are highly susceptible to change, and availability of commission slots will vary on Steele's current workload. Commissions have no set date for how long they will take to complete, but clients will be allowed to preview the contents and monitor updates as they happen in real-time.
For commissions, questions or other inquiries, you can email Steele at Jackblackstack@gmail.com or DM "DoctorBleed" on Tumblr or Fandom.
My Stories
The stories I've written and want to showcase. I've written plenty more, but I've specifically decided to only post horror stories on this profile, in keeping with the theme of the site.
Original Works
Stories not based on any pre-existing work or media. Everything made entirely by my own two hands!
Fan Works
Rewrites or unofficial sequels to existing stories, or stories based on pre-existing media, or even just stories that recount true events.
External Links
If you want to read some of my other writings, check out my profiles from other sites: