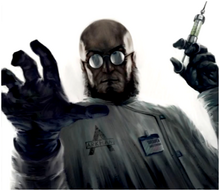 The name's Doctor Thomas Bleed, PHD. Legally I'm not allowed to call myself a doctor anymore. Most folks in real life know me by my real name, Anderson Steele. I like serial killers, body horror, cryptids, slashers, Lovecraftian entities, and the terrible and maddening realization that life is truly worthless. I also like ice cream and bad television.
If you want to read some of my other writings, check out my profiles from other sites:
My Stories Edit
The stories I've written and want to showcase. I've written plenty more, but I've specifically decided to only post horror stories on this profile, in keeping with the theme of the site.
Original WorksEdit
Stories not based on any pre-existing work or media. Everything made entirely by my own two hands!
Fan WorksEdit
Rewrites or unofficial sequels to existing stories, or stories based on pre-existing media, or even just stories that recount true events.
My Favorite StoriesEdit
Some of the stories from around this wiki and other places that I really enjoyed. Keep in mind I'm still new to this community, so this list will change greatly the more time I spend here.
My Favorite Bad Stories Edit
There are two types of Creepypastas I absolutely love without the slightest hint of irony: Really good, scary pastas that creep you out and keep you up at night, and really bad, dumb pastas that make you laugh your head off until your sides explode. These are some of my personal favorites.
Notice: If you're the author of one of these works and object to having it listed here, send me a message and I'll take it down. Dearest apologies!