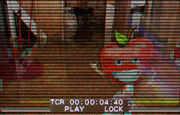 Welcome to my userpage! I am Dronian, the famous creator of Happy Appy. I took a short hiatus from this wiki to work on other things, but now that I'm back, I'll try to contribute a pasta every month.
My pastas, in order of liking
This is a list of my creepypastas based on how much I like them. The more higher up it is, the more I like it. This also contains Schizoid Man.
The Insane Man - I just love this pasta. Not to stroke my ego, but I think I did very well on this pasta!
Forenzik - Another pasta I think I did well on. It's a good backstory, but there is a problem with paragraph placing. Should have started with his beginning through the HA years and then ended at the Costo murder.
Happy Appy: The True Vision - This pasta is a remake of Happy Appy. It's much more superior, too.
Fright House Screamers - Another good pasta I made, but just doesn't have that good of a charm.
Theend.bat - I really did my research on this pasta; I even made the codes myself (No joke). I did base it off of Binarystep...
Schizoid Man - This pasta isn't complete yet, but it's actually pretty good so far. I just need to add more detail to it, and it'll be higher up.
Sword of Syria (remake) - It's better than the original. It adds more mystery and has less plot holes.
Binarystep.EXE - This pasta is flawed, I will give it that. If I knew more about .EXEs and pasta cliches, this would be more higher up.
Happy Appy (original) - It's just okay. It's not scary, but it's not laughably bad. It's just in the middle.
The Scariest Sound in the World - It's a SMART troll pasta, but I just don't like who it's about.
Sword of Syria (original) - I just don't like this version. Rushed, lacking in detail and a weird premise. That's why I remade it...
Minecraft Cave - I just...no. What was I thinking when I came up with this? No, toss that. WHY IS IT SO POPULAR? Holy shit, it's #5 on the MC category. Thankfully, it's been deleted.
Bootleg Thief and the Cobbler Video - What was I thinking? I mean, holy fuck. It's cliched. There's one pasta I made that is much worse. Holy shit. It is none other than the infamous...
Roblox Caverns - A pasta so bad it actually got deleted (and the only other pasta that got deleted of mine wasn't really a pasta; it was a story tying 3 other stories together). It's a haunted place in ROBLOX with Herobrine. Expect Furbearingbrick to dig this old shit stain up and put it on the Trollpasta Wiki, which doesn't even deserve the pasta.
This list means I do not want certain pastas deleted; I'm just stating my thoughts on old pastas of mine.
Subpages
Community content is available under
CC-BY-SA
unless otherwise noted.