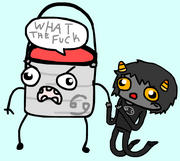 I'm just another person in the world we call the internet.
I love Homestuck, Hetalia, and gamers such as Cryaotic and PewDiePie. I love funny stuff made by people such as Ryan Higa, VenetianPrincess, Swedish Meal Time, and Smosh. I also like creepy reads done by people such as Cryaotic and MrCreepyPasta. Ah yes, and I love covers (such as Vocaloid covers) by Ashe and Rockleetist. And dating sims by Pacthesis. Have I no life.
Yeah.
And I sold my soul to Hussie whilst drawing a circle- that's the Earth.
My favorite pages
Community content is available under
CC-BY-SA
unless otherwise noted.