Ellur <insert name here>. While you're here, you should piss around and waste time. If you're bored, read the info below to get to know me. FantasyPhantom

21:59, May 27, 2014 (UTC)

(•_•)
( •_•)>⌐■-■
(⌐■_■) - Deal with it
ಠ_ಠ No. ( ͡° ͜ʖ ͡°) Jelly?
Edits of

FantasyPhantom

on Creepypasta Wiki
Total:
2,487
Article:
214
Talk:
12
User:
153
User talk:
105
Project:
961
Project talk:
1
MediaWiki:
0
MediaWiki talk:
0
File:
64
File talk:
0
Template:
0
Template talk:
0
Category:
0
Category talk:
0
Forum:
108
User blog:
9
User blog comment:
247
About Me
Likes:
Reading, writing, music, games, ect. (everything mainstream and socially acceptable omit a few things >.>)
Dislikes:
Everything mainstream and socially acceptable, crappypastas, various levels of haters and spammers
Hobbies:
Writing, making videos, music making, watching the teletubes
Future Career Aspirations:
Working in the movie industry (producer/editor)
Shows I tend to watch:
Family Guy, Bleach, Death Note, Silent Library, Adventure Time, Soul Eater, Comedy Central (in general), just to name a few
Music that appeases my cerebral cortex:
System of a Down, Voltaire, Disturbed, Korn, Godsmack, ICP, Eminem, Jamie Foxx, Dubstep, Decapitated, Avenged Seven Fold (basicly that and every other genre)
My Upcoming Projects
Stories to be Written:
Project Xavier
The Seven Deadly Songs: Part 2
Those Who Don't Learn From the Past
The Girl in the thousand Mile Car
Don't Look Up
Various:
Note that all of the above are all ideas at the moment and could change. These are things I'd like to do but as we all know, time is a major factor. I'm looking into some help for a few of these projects but if you think you could contribute, shoot me an email or leave a message on my talk page. These lists are mostly for me but they could count as spoilers for you. I'm looking forward to these projects and I can't wait to get started on them. Peace.
-Phantom
Mah Friends
My Stories
These Are Mah Favorites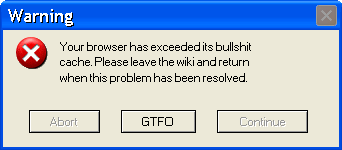 Community content is available under
CC-BY-SA
unless otherwise noted.