I am FinalClaw, I got here an year ago, all Emo and crap, started reading all them pastas, and I started getting a developed taste, today I now write sometimes pastas for you guys, and maybe later in my time, you will see me as a chat mod :D
My name you're NEVER gonna get!
My age will only be told to certain ones
As you know, everyone has a reason to come to this wiki, mine was for an escape from the real world, what was yours?
I hope you have fun in this wiki, and I shall see you in chat :D
FinalClaw OUT
Friends list:
If you are my friend, post your linked profile here :D
WhyAmIReadingThis
Contact me:
You may contact me about wiki related stuff at Soraclaw2@gmail.com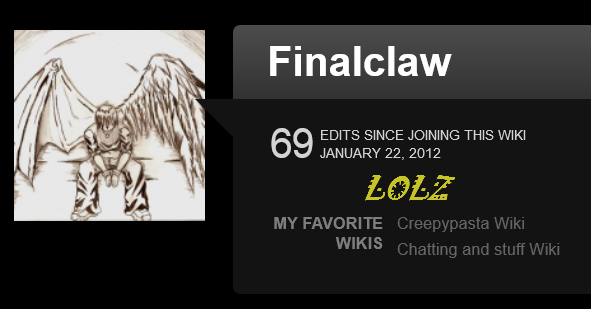 </div>
</div>
Community content is available under
CC-BY-SA
unless otherwise noted.