Hey everyone! I am Jekel-and-Hyde, aka Beth. I joined this site of Nov 26th, I think...I lose track of dates easily since I live in Seoul, Korea..
I am an eighteen year old who wishes to major in either English or Art. Writing is one of my strong suits, and hopefully that will show in my upcoming Creepypasta. I was inspired to join by the YouTube channel SomeOrdinaryGamers, who review gaming Creepypastas as well as non-gaming. They have done one non-gaming so far, and I hope to be the next! But other than SOG, I joined because I think the story I shall share is worth writing out and sharing with you guys! I just hope you like it!
As for art, me deviantART account is
Jekel-and-Hyde
, if you want to check it out, please do.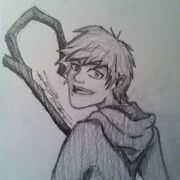 I am pretty friendly and patient, so feel free to talk to me. I don't tolerate stupidity, however, so don't waste your time trying to troll or convince me that someone is sending you pictures of dead children.
I am always happy to help people with their writing and giving advice, so feel free to drop me a message if you are stuck with your pasta! You can find me on chat most of the time, but if I am not there, drop me a message!
Nice to meet you all!
-Beth
Community content is available under
CC-BY-SA
unless otherwise noted.