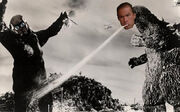 I write this and that, lately pulp fiction and comics. All my readable horror stories are being posted on the net as creepypastas since I couldn't get them published professionally. I have a site full of fun stuff!
Bring asshole to my door, I'll give it right back. I don't take cheap shots unless they're fired at me first.
My Favorite Pastas, Scary Stories, Etc
Scary Stories/Etc
Articles
Community content is available under
CC-BY-SA
unless otherwise noted.