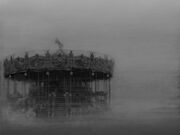 What can I say? I'm a long-time lurker.
Not behind the wall, or anything like that, just on this site. I finally felt that it was unfair of me to read and enjoy all the wonderful stories posted here without providing any feedback or anything, so here I... am.
Want to adapt one of my stories?
I'm enormously flattered to have received so many messages asking for permission to use my work in plays, short films and podcasts! Seriously - there's no better way to cheer up a writer than to make him feel his work is appreciated.
If you're seeking permission to use my stories in such a way, leave a message on my Facebook page . I'll generally be a-okay with whatever you want to do, but please let me know what's up, and give credit where credit's due! Seriously though - you guys are all lovely!
My own submissions
My favorite spine-tinglers
Readings and adaptations of my writing
"Cold Water":
"Digital Immortality":
"Skype":
"Chicken Bones":
"The Other Internet"/"The Network":
"Knocking":
​"A Slender Knight":
"War Stories":