Welcome!
Today is such a wonderful Tuesday in the lovely year of 2020!
I write music and draw a lot, and my dream is to go to Juilliard in New York City after I graduate. I have aural synesthesia, which basically means that music has its own visual effect. I'm hoping to one day write a creepypasta based on this condition.
I love writing and editing stories so please feel free to contact me if you want any help with your Creepypasta. It's good to work out all the kinks before posting it so you don't risk having an unedited story deleted.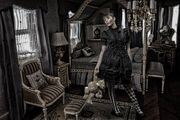 There are currently 4 pages flagged for deletion.

Edits of

Nyaomeimei

on Creepypasta Wiki
Total:
248
Article:
47
Talk:
44
User:
21
User talk:
1
Project:
2
Project talk:
0
MediaWiki:
0
MediaWiki talk:
0
File:
9
File talk:
0
Template:
0
Template talk:
0
Category:
0
Category talk:
0
Forum:
46
User blog:
2
User blog comment:
8
Community content is available under
CC-BY-SA
unless otherwise noted.