Welcome!
Today is such a wonderful Wednesday in the lovely year of 2020!
I write music and draw a lot, and my dream is to go to Juilliard in New York City after I graduate. I have aural synesthesia, which basically means that music has its own visual effect. I'm hoping to one day write a creepypasta based on this condition.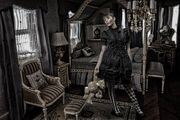 There are currently 3 pages flagged for deletion.

Edits of

Nyaomeimei

on Creepypasta Wiki
Total:
248
Article:
47
Talk:
44
User:
21
User talk:
1
Project:
2
Project talk:
0
MediaWiki:
0
MediaWiki talk:
0
File:
9
File talk:
0
Template:
0
Template talk:
0
Category:
0
Category talk:
0
Forum:
46
User blog:
2
User blog comment:
8
Community content is available under
CC-BY-SA
unless otherwise noted.