Welcome!
Today is such a wonderful Thursday in the lovely year of 2021!
Hi, I'm Kaeli! I'm a freshman in high school and I live in the deep South of the United States of America. At this point I've practically given up any social life in favor of reading, writing and editing Creepypasta! I have aural synesthesia, which basically means that music has its own visual effect. I'm hoping to one day write a creepypasta based on this condition. Just ask, and I'll help with anything to do with writing/editing any type of story! It's best to get someone to review your story for mistakes you may have missed before posting it.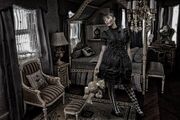 There is currently 1 page flagged for deletion.

Community content is available under
CC-BY-SA
unless otherwise noted.