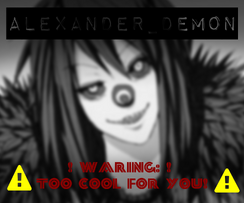 What ARe My FAvoRite Creepypastas:
What I am
I am a Giraffe🦒 
I live in The 69th dark Dimension
I love trying to get a LIFE™
I love to write creepypastas Because, I have nothing else to do with my life
I AM NOT EMO! IT'S NOT A PHASE MOM! GET OUT OF MY ROOM!!!
My Favorite Bands are My Chemical Romance ( I. AM. NOT. EMO!!! ) and Get Scared

I Hope you have a Good Life <insert name here> :)
Community content is available under
CC-BY-SA
unless otherwise noted.