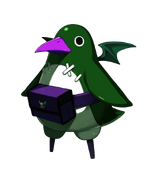 Me
Okay. So. My name is Stormie. I'm 17, I live in Louisiana, on the Northshore of Lake Pontchartrain. I used to rope and pen, and have been training one of my horses to rein, although I probably won't put it to any more use other than showing off, as I don't compete anymore. I write poetry more than I write prose, but I'll probably try my hand at a traditional pasta eventually.
"We can know without understanding but we can't understand without knowing."
My Favorite Pastas
This list is always growing. Have a good pasta for me to read? Suggest it over on my Talk Page!!! :33
The Black Dog and Goat
Son's Revenge
My Pastas
My Favorite People
DO NOT. ADD YOURSELF. If I didn't add you, there's a reason. Don't take offense to it.
People That I Think of as Friends
DISCLAIMER
I am a Grammar Nazi. I am not afraid to correct your grammar, and I will let it be common knowledge if I don't like you. Which isn't often. I like most people on this chat! :33 Don't act like an asshole, and I'm pretty much cool with you!
Issue With Me As A Mod?
Take it up with Nick. Or contact me. If I banned you, and you feel as though it was an unfair ban, leave a message on my talk page, informing me of why you disagree. Arguing with me will not get your ban shortened. Be polite, and I will be polite in return.
Community content is available under
CC-BY-SA
unless otherwise noted.