"That's the sound of people drowning, Carl."
"That's what forgiveness sounds like. Screaming and then silence."
-Llamas with Hats 2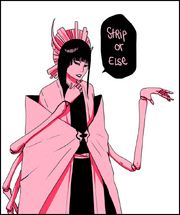 Hi. I'm Senjumaru Shutara, a member of the Royal Guard a user (and ex-admin) here. You can contact me on my talk page. I am also an admin and bureaucrat on the Library, Spinpasta, and Starpolar Wikis.
Works Here
Works I Enjoy
So I Thought I Ate a Spider in My Sleep...
The Curious Case of Marianne Reynolds
Llamas with Hats
Community content is available under
CC-BY-SA
unless otherwise noted.