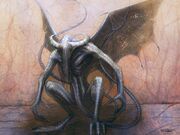 Oh dear, I just noticed how out of date this page is. Allow me to fix that.
Anyway, So, you want to know more about me, eh?
Well, a while ago I was a regular on this Wiki, and for a while, I was known
by anyone who used the chat as:
"That weird brony hating/homophobic guy in the corner"
I would like to clarifiy that I was younger then, and no longer hold such asinine opinions.
Anyway, I will probably be fairly active for a short while before I dissapear again.
Probably.
Community content is available under
CC-BY-SA
unless otherwise noted.