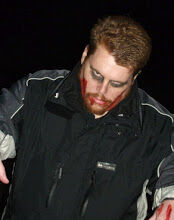 Hey, readers! I have a new project in the works at Inkshare.com! It's a full novel that, if all goes according to plan, will hit book store shelves within the next few years! You can help that happen! Visit this page and login with your Facebook or Twitter account, and follow me, my project factory town. and you can even pre-order a copy of The Shadows are Moving, a collection of my more popular pastas! Pre-orders are of course a huge help, but even just follows and recommendations will help, and those cost nothing! Hope to see you there!
Read my blog, which I update when I have time. All the stories I post here appeared there first.
Trying to finish up a novel. Look for it in book stores near you...some day. EDIT: After showing some interest, the first publishing company I submitted to has turned it down. They liked it, but didn't feel that it met their current release criteria. I press on, currently waiting to hear back from a second.
Many of my stories have been read on YouTube (just search "WriterJosh Creepypasta") and can be found on other CreepyPasta sites.
My Pastas
Community content is available under
CC-BY-SA
unless otherwise noted.