Howdy, folks!
I thought I'd start being useful around here and give a bit of advice to writers.
Is there some tool that this Wiki doesn't have that you wish you could use? Like a tool to count how many words are in a sentence, or a paragraph, or just your overall whole story? Or maybe a spellchecker 2 keep u fromm makig to many splling misatkes. Or perhaps even a tool that helps you find the right words for your terrifying tale?
Well fear not! There are actual websites that will provide you with all that you need! Allow me to list some of them, categorized by what they do:
Spellchecking
SpellCheck.net
This tool, simple as it is, is a tried and true method for pinpointing some classic English errors. It allows you to copy and paste (or just directly type in) your desired text, and it quickly analyzes it for possible spelling errors.
It will then highlight all of your errors in red, and gives you lists of possible corrections.
Like all spellcheckers, there are a few pros and cons to it.
Pros:
Simple, easy-to-use layout
Free software
Can spellcheck in multiple languages
Can be downloaded for offline usage
Comes with multiple features, including:

Common misspellings of words
Charts showing word usage
Cons:
May mistake correctly spelled words for misspellings
Does not allow users to have accounts
List of words is not up-to-date
Includes ads
JSpell Checker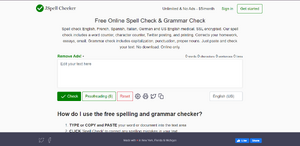 Like SpellCheck.net, JSpell comes with a simple layout that makes it easy to use and not too wild or complicated. It also allows users to check their overall grammar as well as their spelling (though grammar checking requires payment).
It allows the user to paste or type what they want checked, and then offers multiple suggestions for each word.
Of course, it too has its pros and cons.
Pros:
Simple, easy-to-use layout
Mostly free software
Allows users to have accounts
Includes a word counting tool
Can check in multiple languages
List of words is up-to-date
Cons:
Grammar checking is only available at a price
Word selection is limited
Software is only available online
Includes ads; pop-up ads are frequent
Word Counting
WordCounter.net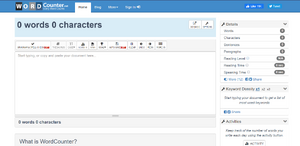 That "counting of words tool" in Microsoft Word might be good, but it isn't WordCounter.net good.
This handy tool will tell you everything that you ever needed to know about each and every individual paragraph, sentence, word, and character in your story. It even shows you what "reading grade" you've achieved!
There are, of course, pros and cons.
Pros:
Mostly free software
Can toggle between "basic layout" and "advanced layout"
Can count individual words, sentences, paragraphs, and characters
Can calculate average reading time, speaking time (how long it would take to say the text out loud), and "reading grade" (the target school grade)
Allows users to have accounts
List of words is up-to-date
Does not include ads
Comes with multiple tools (ones that can only be used while signed in marked with an asterisk), including:

Spell checking from Grammarly
Plagiarism detector
Keyword density
Writing options
Auto-save*
Writing goals*
Activities*
Cons:
Advanced spell and grammar checking requires payment
Software is only available online
Some tools may be too complicated for inexperienced users.
Only works in English
Word Finding
Thesaurus.com Writing Tool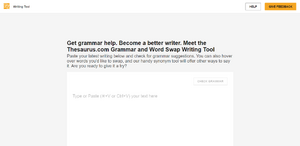 Great news! Thesaurus.com finally has a writing tool! And just in time for all aspiring Creepypasta writers!
Using it, just hover your cursor (if you are using a computer) over any word you would like to find a synonym for, and it'll give you a small list of words that you can use in its place!
And now, for the...well, I think you know.
Pros:
Simple, easy-to-use layout
Free software
Does not include ads
List of words is up-to-date
Includes a free spell/grammar checker
Cons:
Software is only available online
Does not allow users to have accounts
Only works in English
And there's so much more!
The "interwebz" is full of free software to help any inept, naive, unsophisticated author along their journey to greatness, abundance, and prodigiousness (and yes, I did use thesaurus.com to get those words). The websites I mentioned in this post are just a small fraction of all the tools that can be used to improve your story!
And these tools can also do more than just count words and correct mistakes. You can use them to get feedback, get published, format your text, generate drawings of your story, and so much more! And if you're the type of homebody that would rather just use the Wiki for your creative needs, then the CW's workshop for writers is where you need to be!
Thank you for reading, and if there are any websites that you would like to mention, feel free to point them out in the comments section!
This has been a public service announcement from your favorite local closet monster!
Community content is available under
CC-BY-SA
unless otherwise noted.