Your Writer's Workshop post
I read your story a while ago in the Writer's Workshop. I didn't bother to add any input, as I saw another user basically highlighted and topped off all the points I would have made (perhaps more eloquently than I would have).
It's been about 2 weeks since you initially uploaded the story to the workshop. I'm just poking you here to try to inspire you to finish your edits / revisions, and post the story. I quite enjoyed it, and I'm looking forward to the final product.
Te (talk) 13:25, 3 November 2021 (UTC)
No stress, take your time. I just thought it was a cool story, and wanted to ensure you wouldn't abandon it :p
I am aware
I know, I know, story, finish, edits, stuff. I just usually don't, you know, edit things after I'm done with the first draft, so this is all kinda new to me. I'm working on the second edition in a google doc, then I'll import it when I'm done. But thanks for the reminder! I'm glad you liked it.
Blogicle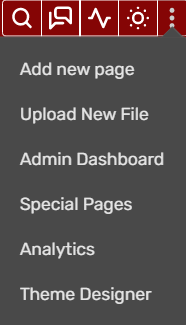 It was noticed that you recently posted a story in the form of a blog post, forum post, profile post, talk page post, etc.. These places aren't the right location for this type of content.
Next time, please contribute it as a page instead. To do so, click the button at the upper right corner of the page with the three periods. Select the "Add New Page" option "Submit a Story" from the dropdown menu. If you need any help with this, contact an Administrator for assistance.
As you did not post your story to the writer's workshop and inestead posted it to the forums, it is being treated as a mis-placed story as per our guidelines. Continuing to post as such may result in your edits being treated as spam. EmpyrealInvective (talk) 01:34, 8 December 2021 (UTC)
I'm sorry!
I had no idea my post was going to the wrong place, I was having a tough time navigating the site and must have accedentally put it there. Feel free to delete the misplaced story if you haven't already, I promise it won't happen again!
Re: Forum Post
I removed your forum post as it did not use any of the templates that had been set up for the writer's workshop. As such, it would not be featured on the main page or get any form of visibility once it fell off the recent activity feed. When you posted in discussions in regards to your story, you used the link that had been deleted so it would have resulted in users following the URL only to find a deleted page. As you've corrected the forum issue and properly posted in the writer's workshop forum, I would say that you can make a single discussions post to increase visibility. Please note that repeated posts will result in it being treated as spam. Have a good one. EmpyrealInvective (talk) 14:16, 8 December 2021 (UTC)
Notice
One or more of your recent Discussions posts or polls have been removed due to violating the guidelines. Please take some time to review the rules as further infractions may result in a temporary ban.
DO NOT REPOST YOUR DELETED POLL/POST. If you post it again, you will be subject to a one-day ban, per the rules.
EmpyrealInvective (talk) 21:23, 6 January 2022 (UTC)
Re: Deleted Post
It's more in the blog rules itself. Asking for ideas is not permitted on blogs, forum posts, comments, or discussions. There are a number of possible issues that can arise from authors using other authors' ideas to write their own story (failure to cite, copyright disputes, etc.) . In addition to that, we have had issues with authors who wanted to write something, begging others for story ideas which lead to the rule's formation in the first place due to people spam posting and requesting premises. EmpyrealInvective (talk) 22:09, 6 January 2022 (UTC)