Re: PotM Voting
As I mentioned on Icy's talk page, Straw Poll is currently not functioning (i.e. any attempt to make a poll is met with a Parser error). This survey/poll site was the first one I found that didn't require voters to sign in to use it, creators to buy a membership, and allowed for voter regulation. That being said, as it's a new system that is being used on short notice, I wasn't able to fully examine the ins-and-outs of interface. I created a new survey that should limit votes to one per IP and also allows for checking of the poll without requiring a vote.
EmpyrealInvective (talk) 18:36, 22 September 2021 (UTC)
Poem Formatting
Hey man, thatonedude666 here. First off, I wanted to say I'm sorry for that whole town name debacle, I did not mean to come off as a jerk in that scenario. But that's not the main reason I wanted to talk to you. I've read some your poems, and they are really good but I'm wondering how you got them to be formatted like that. I tried to post my poem earlier, but every time I pasted it from the google doc, it suddenly became single spaced. I was also wondering if you would be interested in narrating my poem once I post it. Again sorry to bother you, I was just hoping you'd be able to help me out.
Categories
Howdy,
Thanks for reaching out to me regarding the category issue, I read what Empyrealinvective linked me and got a much better understanding of the categories, the requirements for an author's category, and access to other relevant information.
I appreciate you contacting me, it wasn't the first time I had issues trying to figure out how to add my work to categories. I kept finding that it was treating the category link as if there was no page, when I would clearly have said category's page open on another tab. I will definitely go back and add the appropriate categories to my stories.
If you do end up giving them a read at any point, let me know. Would love your feedback.
Thanks again for your advice, and reaching out to me.
Te (talk) 17:13, 30 September 2021 (UTC)
Re: Contest Blog
I was referring more towards putting the winning post on the front page. I tinkered with the coding to try and set it up, but unfortunately, wiki coding isn't my strong suit so my attempts ended up breaking the formatting of the front page on previews. I'm messaging the other admins to see what they can do. In the meantime, I put your discussion posts in their category and put the admin blog on your blog post. Hopefully we get it sorted out. If not, we may just need to continue promoting it via discussions and ask some of the narrators if they might do a shout-out for signal boosting.
EmpyrealInvective (talk) 18:50, 3 October 2021 (UTC)
HopelessNightOwl figured out how to properly add the blog to the front page. I'll leave it up while the contest is in place to increase visibility. Feel free to let us know if anything else comes up, but just a heads-up, I am going to a friend's wedding in the next couple of days and visiting with a few friends in the area so I will likely be slow to respond for about the next week. Have a good one.
EmpyrealInvective (talk) 16:20, 4 October 2021 (UTC)
Re: Wiki Contest
Thank you for asking! I'll let you know. :-)
I should note I made one Halloween story years ago, but it was deleted from the website (I'm guessing for being too horrifying ;-))- https://flamintales.fandom.com/wiki/Most_Horrifying_Halloween_Figure . If I decide to participate in this contest, I'll write something more suitable.
Raidra (talk) 18:58, 3 October 2021 (UTC)
Halloween Writing Contest
Thanks for informing me of the contest. I'll try and write something for it depending on how busy I am with work and social obligations.
Gomez Capulet (talk) 12:36, 6 October 2021 (UTC)
Re: CrazyWords Contest
Banning won it with his story "Of Beauty and Beasts". I believe he removed the story at a later date (2019 iirc) as he was publishing it. I don't know if that was the reason, but I think that's what happened. There's a link to the winner announcement blog for verification.
EmpyrealInvective (talk) 00:00, 7 October 2021 (UTC)
NVM, different contest. Gimme a bit to look into it.
EmpyrealInvective (talk) 00:01, 7 October 2021 (UTC)
So here's what I managed to dig up/remember. According to the contest: "Thenumber of people moving on will be decided on how good the pastas are, and there will be 3 rounds. I will post if you will be moving on in the comments of your pasta." The contest was meant to be three tiered like a ladder tournament. With the top four (or so) winners moving onto the next bracket and then going to two in a showdown. I think due to the overly complicated nature of the contest and fatigue, CW expressed burnout on chat, somewhere off site, or here and I'm just not seeing it. Unfortunately navigating contributions really doesn't turn up anything concrete and I honestly am too busy to look through every admin and Crazywords contribution, comments, and forum posts to see if an explanation for ending the contest early was given or an official announcement was made in regards to the contest being cancelled. Grim (the leading person in the first round) also made a blog (see in comments of the contest) about burnout and taking a break from writing.
Here's where it switches to memory. I think the contest was abandoned before the second or third ladder matches could begin. That much is apparent by the comments and the talk page messages asking about the topics for the next round. I think CW became an admin on another wiki and went over there for a while and returned after this contest matter had been settled. As they were heading the contest and hadn't assigned topics for the second or third rounds, we couldn't finish the contest properly; it was abandoned and the entrants were categorized without an official winner. If I remember my events correctly, this (in conjunction with the surplus of contests we were getting at that time) caused us to state that contests needed approval and admin involvement to prevent issues of them being left unfinished in the future. That being said, I don't have concrete links to provide, but that's what I can best reason on events from 5 years ago. Sorry I couldn't provide more evidence, but as you mentioned there really isn't much here on examination.
EmpyrealInvective (talk) 00:49, 7 October 2021 (UTC)
Re: Welcome
Thank you for the welcome and the kind words. I greatly appreciate it.
I gave your story a look over and left a review of it in the comments. Suffice to say I think that it is an excellent piece of short-form horror and I think you are a talented author. I will have to give more of your work a look when I get the time to really appreciate good writing.
Unfortunately while I can sometimes recognize good works and help to suggest changes to maybe not so good works I have real trouble when it comes to taking ideas and putting them to words myself. I am sure that if I put my head to it I could produce something mediocre if not cliche in of itself. For that reason I don't think that I can in good confidence submit anything to your writing contest.
Ovidian (talk) 00:16, 8 October 2021 (UTC)
Re: Contest Category
Sorry for the delay, as I mentioned above, I was out-of-state for a wedding up to last night and I've spent a lot of this morning catching up on edits, QS checks, and going over comments/discussion threads. Here is the category for the 2021 Halloween Writing Contest (Halloween 2021). It was made in keeping with the category pages for other contests. Please let me know if you need anything else.
EmpyrealInvective (talk) 19:30, 12 October 2021 (UTC)
No problem. I wish I had more time to be on site, but RL takes precedence and the other admin/bureaucrat can usually pick up the slack during that time. Have a good one.
EmpyrealInvective (talk) 19:41, 12 October 2021 (UTC)
Unintentional Categories Violation
I sincerely apologize but without thinking I added by the monsters and beings categories to my pasta Generation Freak. I checked the rules and see that they are mutually exclusive but see no way to remove the beings category. I hope that this will not result in any negative consequences in regards to the contest or otherwise.
Gomez Capulet (talk) 18:09, 20 October 2021 (UTC)
Despite being here for years and being pretty serious when it comes to actually writing I am essentially a boomer when it comes to tech. I had assumed categories would be removed in a similar manner to how you can add them by just clicking a button at the bottom of the page without opening editing. I appreciate you informing me as to how I can do this if necessary in the future. Thanks for correcting the mistake.
Gomez Capulet (talk) 18:34, 20 October 2021 (UTC)
Hello again.
Thank you for the heads up. I'm doing abstractly better now; not sure if I have time necessarily for a full blown contest (school, projects and etc), but I'll keep an eye out for other content. Still have to relearn site navigation.
Cheers.
William See (talk) 16:56, 21 October 2021 (UTC)
RE: Wiki Contest
It just occurred to me that I've never written a ghost/spirit/poltergeist-themed story before, alas challenge accepted! ;)
D. Compton Ambrose (talk) 02:00, 26 October 2021 (UTC)
Contest Entry
Good evening, Mr. Cornconic.
I apologize for the tardy entry. I ended up having a bit of a slump with my writing, followed by losing my work. I'm working to finish off my story, and to submit it ASAP.
Thank you for reaching out.
Te (talk) 22:20, 27 October 2021 (UTC)
Question about my story
Hey so, I'm the writer of that psychonauts creepypasta and I was just wondering, why did you put my story in the deletion category? Could you remove the warning, please? Thank you.
About my story, it isn't a spin-off. I never meant it to be a spin-off of any kind. It's its own thing.
edit: I now see what you mean. I'll get rid of the story. Thank you for your time.
Halloween Competition
Hi Cornconic. Because I have been quite occupied with work, I am submitting the entry today.
Halloween story - submitting soon
I saw your message. I'm just finishing up any last edits and grammar/spelling checks on my story. I'm planning to submit tomorrow night (10/28). I'm on Pacific time though, so it may end up being submitted at the very beginning of 10/29, depending on where you are.
Elle Ravenswood (talk) 02:16, 28 October 2021 (UTC)ExRwood
Is it an issue if I post my story elsewhere before the contest officially ends (ie, a winner is announced 10/31)? I usually put my stories up here as well as on my website and some subreddits. Just wanted to check before I did that. Thanks!
Elle Ravenswood (talk) 21:11, 29 October 2021 (UTC)ExRwood
Contest
Yes I will definitely be submitting my story on the 29th! I had to restart- didn't like the first one I wrote. Thank you for checking in :)
Contest
Thanks for the reminder. I just posted my entry a few minutes ago.
Creepy Thomas O. (talk) 10:56, 28 October 2021 (UTC)
Re: Contest
It's likely that I won't be able to complete and post the story in time to enter for the contest.
Fortunately there seem to be enough entries already for the contest to be considered a success in terms of participation.
If I get it done after the contest deadline but before Halloween I'll still comment on the blog, for those curious about what my entry would have been.
There is still a chance that I'll get it done in time for the contest. It has been started.
HopelessNightOwl (talk) 11:48, 28 October 2021 (UTC)
RE: Contest
Yep, I know the deadline is tomorrow. Still trying to come up with something worthwhile. If inspiration hits me in the last couple hours, I'll make it happen.
Shadowswimmer77 (talk) 13:28, 28 October 2021 (UTC)
Halloween Contest
Hello Cornconic! Unfortunately this month ended up being much busier than I anticipated. I made progress on an entry, but I won't be able to complete it in time. I still appreciate you inviting me to join the contest--I had fun writing my entry (even if I didn't finish it) and have enjoyed reading all the stories that have been submitted thus far.
CertainShadows (talk) 15:30, 28 October 2021 (UTC)
RE: Contest
Hey, thanks for reaching out to me.
I did have some ideas and rough concepts down, but I ended up shifting my focus onto writing for my upcoming game. By the time I was able to release a demo, I didn't have the appropriate time to jump into another project as I needed to keep an eye on user feedback.
Sorry I couldn't make this clear in any posts on the wiki. Hope the best for your contest.
Wobblingkirlia (talk) 05:27, 29 October 2021 (UTC)
Halloween Contest Deadline
Is the deadline the 29th at midnight?
Halloween Contest
Yeah I'm not going to make it either, but it still feels good to be back to writing again! :) Good luck, lmk when the next contest is.
D. Compton Ambrose (talk) 19:47, 30 October 2021 (UTC)
Squidmanescape Did Not Manage To Write a Contest Entry
So I didn't manage to write a contest entry.
Thank you for checking to see what I was doing. I'm sorry for not getting back to you sooner. I hope you have a good day, and that you enjoy reading the entries from the people who managed to write them.
Squidmanescape (talk) 05:40, 31 October 2021 (UTC)
Re: Contest Winners
I'd say splitting it half and half on the front page would be the best option. I put Kolpik's story on first. Have a good one.
EmpyrealInvective (talk) 18:53, 3 November 2021 (UTC)
Welcome Back
I don't know if you took a little break from the wiki, or were just lurking for a while, but I've noticed your recent resurgence of activity.
Just wanted to say welcome back.
Your harsh, yet in depth analytical criticism has definitely been missed. I, myself, try to give constructive feedback on people's work, but I know I tend to lean more to a positive and light hearted side of things. Not that I'm any expert critic anyhow.
Every carrot needs a stick.
Te (talk) 19:55, 8 December 2021 (UTC)
I can understand that organizing and judging the Halloween contest would take a toll. It's fun to read stuff here, but I'd imagine it's stressful needing to read several, and provide in-depth reviews, in a short span of time.
Thanks for your kind congratulations on my category. No pressure to check out any of my work. It'll happen when it happens. Although, I do look forward to any feedback you may have to offer.
Anyhow, take it easy dude. Have a good one.
Yo!
Heya, Cornconic! I just wanted to ask a quick question. Should I take down Athazagoraphobia? I'm currently working on a new Christmas pasta, and I don't want to leave a creepypasta that is marked for review on the wiki. Should I just take it down, or should I leave it? I don't intend to edit it anymore because I have more ideas I want to work on.
Dis...
Haven't been on Discord since 2019 or perhaps 2020. Just logged in and I don't seem to have access to any servers. Curious. Go ahead and send me an invite.
Kolpik (talk) 15:50, 27 March 2022 (UTC)
Whoops! Haven't been on Discord in quite a while. Sent ya a request.
Hey, thanks for reaching out.
Your email had been sorted into spam. Just sent you a friend request on Discord. I'm Dr. Delgado on there.
Gomez Capulet (talk) 00:39, 28 March 2022 (UTC)
Re: Heya
Sorry, you can drop me a line but with work, I'm not likely to be free till the weekend to respond and I might have to pass as April is gearing up to be super busy for me. However, if I can help, I'll try. My discord's EmpyrealInvective#4211.
EmpyrealInvective (talk) 23:42, 5 April 2022 (UTC)
RE: A couple of things
Hi Cornconic, returning your Apr. 1 message. Thank you so much for alerting me to this recent writing contest although I'm not sure if I'll be able to enter and get an entry in time since right now I'm preoccupied at the moment with work. Also was wondering if Discord is related to Creepypasta or do you need to make an whole new account there.
Mmpratt99 deviantart (talk) 03:20, 16 April 2022 (UTC)
Hi Cornconic, Thank you for your invite but I don't know if I'll be able to join this Discord site since I'm rather busy doing projects unrelated to this community. Also I'm trying to take a break from social media so I can concentrate on getting my creativity working again.
Mmpratt99 deviantart (talk) 19:14, 23 April 2022 (UTC)
Important Message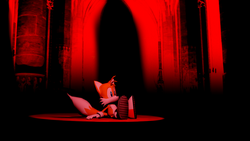 So I'm looking for a mostly now gone story called "Tail's Nightmare", which was a Sonic X Creepypasta. It had an image of an CGI Tail's model attached to it sitting in an distorted empty room. I was wondering if you know anything about it since now it's completely missing and all I can go by are some recreations my friends made.
Meme material
I think this YTP might be a good source for memes- Joker Weird Trailer by Aldo Jones