Birthday
my birthday is coming up on April 20th, I'm gonna be 17! Luigifan100 (talk) 21:10, April 14, 2014 (UTC)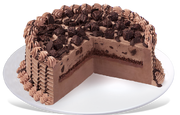 ocrap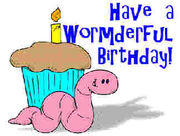 I was about to ask you if you knew how to make a minor edit, since some of your edits should be marked for minor edits - which it can be seen here. But, as seeing that it is your birthday... Happy birthday Luigi! For your birthday, you get a birthday worm telling you to have a "wormderful" birthday! Happy birthday Luigi! Do you hear that? That's the grape roaring 20:02, April 20, 2014 (UTC)
Your edits and categories
Noticed that on the story Chores for Mom you added Weird and delete now. Typically delete now doesn't need a secondary tag to be added. I would have ignored this, but then I also saw one user's comment about how you added content to a story that altered the story. I believe you named an unnamed protagonist Ronald for no reason other than apparently to make an edit to the story, on a cp about a haunted Rosseta Stone program(?) It makes it seem like you are pointsgaming.
Not issuing a warning, this is just a caution. Making pointless edits to a story without rhyme or reason can get you into trouble.
That being said, happy belated birthday!
EmpyrealInvective (talk) 00:10, April 24, 2014 (UTC)
Re:
It's not that big of a deal. Pointsgaming is when someone makes really small edits to a story (puts in a random letter or makes an insignificant change) or adds categories that don't fit into a story, are unnecessary (IMO any addition category added to "marked for review" or "delete now"), or nonexistent to earn badges.
The only time it really can adversely affect you is if you are applying to any position on this wiki: vcroc, admin, etc. and people are reviewing the edits you make to stories. If they seem frivolous, you can sometimes lose their vote.
Keep up the good work editing stories.
EmpyrealInvective (talk) 05:01, April 26, 2014 (UTC)
Chat Mod
Creepypasta Wiki:Requests for Chat Moderator
Also, Wiki naming conventions have nothing to do with modship or applying for it. River Song (Hello Sweetie.) 22:25, April 30, 2014 (UTC)
Marked for Review
Do not add categories to pages that have been marked for review. -WaveDivisionMultiplexer (Talk) (Contribs) 15:56, May 17, 2014 (UTC)
Hey Luigi its me Darksmg3!
Ahem
I noticed that some of your edits were rather minor in nature, and some were superfluous. I didn't feel the need to bring this up until I realized that I've rollbacked quite a few of your editions already. Please do not make completely redundant edits as this could be counted as pointsgaming, and mark your minor edits. Thanks.
-WaveDivisionMultiplexer (Talk) (Contribs) 16:56, May 25, 2014 (UTC)
I must apologize; I couldn't yesterday for my computer shut down randomly. I mustn't jump to conclusions, before I review your contributions. That rhymes, but it's not on purpose. Again, my apologies.
RE:
Eh. Don't worry about the badges and stuff. They won't actually get you anywhere.
But anyhow, no problem. Dashie ~20% Cooler~ 00:52, May 26, 2014 (UTC)
I want to thank you sir. for editing my work
IanSanity (talk) 03:41, June 15, 2014 (UTC)IanSanity
Banana
Moist Punk (talk) 01:02, June 29, 2014 (UTC)
Hey weegee. How's life been? I'm sitting in my room in Virginia on my ipad wathcing south park :D Too bad it doesn't work on my computer anymore on firefox D: I'll try Google Chrome :3
Blog posts
I'm not an admin, or VCROC anymore. So you have to go to another person who has the powers to do that. Do you hear that? That's the grape roaring 17:26, July 19, 2014 (UTC)
yeh i am
I am new, thanks for the message mate Ashleyxox (talk) 02:57, September 4, 2014 (UTC)
why did u have to snitch —Preceding unsigned comment added by Emilybiersacklovesyou188 (talk • contribs).