Welcome
Hi, welcome to Creepypasta Wiki! Thanks for your edit to the The Russian Sleep Experiment page.
Please be sure to read all of the Site Rules, as it is important to follow them. Failure to abide by them may result in your account being blocked.
Read some new pastas by checking out the article index or browse by topic by checking out the Genre Listing.
Please leave a message on my talk page if I can help with anything!
ClericofMadness (talk) 21:45, January 21, 2018 (UTC)
I NEED TO BE UNBLOCKED I AM NOT UNDERAGE. I HAVE ACCESS TO AN ACCOUNT THAT WAS BLOCKED FOR BEING UNDERAGE. I AM 14 YEARS OLD. I WAS BORN MAY 27 2003. ADD THAT UP. I AM 14. YES I LIED AND SAID I WAS 15 BUT THAT DOESN'T MATTER. I TURN 15 IN MAY. PLEASE CLERIC I NEED HELP. PLEASE PLEASE PLEASE. DELETE XXelliekittenXx IF NEEDED. I DON'T CARE. PLEASE HELP ME!! I CAN'T DO ANYTHING AND I CAN'T CONTACT AN ADMIN. I DON'T EVEN KNOW IF THIS WILL POST. PLEASE HELP ME!!!
---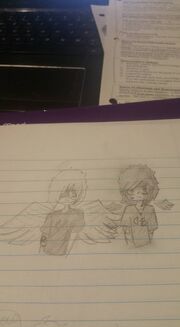 MintyMoony (talk) 22:59, January 21, 2018 (UTC) MintyMoony 2018/1/21
Hello there
Hey, just wantes to let ya know you can't add nonexistent categories such as short pasta to stories. For a list of categories look under the tab site navigation and then click on genre listings.
Also, welcome to the wikia! I'm fairly new myself, but I can say it's a fairly good community.
Custom signature? pfft, as if I were that creative (talk) 00:37, January 22, 2018 (UTC)
New Categories
Please do not create categories. If you make a mistake in typing a category, click the pencil icon to edit or the garbage can icon to delete. There's no need to publish an edit with a non-existent category. See the Genre Listing page for rules about what categories can and cannot be added to pages together or by non-admin, and also for further descriptions of all our existing categories. If you are confused as to how categories on Wikia are supposed to work, please see the help page on categories. The first offense for this is a warning, but the second offense will result in a 1 (one) day block per the category rules.
If you feel your new category should be added to this list, leave a message on ClericofMadness's talk page stating your proposed category and reasons for its inclusion. It must, though, be applicable to at LEAST 10 (ten) existing pages to be considered.
--Sloshedtrain Talk Contribs █ 00:41, January 22, 2018 (UTC)
Categories Violation - Second Offence
Due to adding conflicting categories you shall now be awarded a one day ban from editing.
Helel ben Shahaar (talk) 23:42, January 23, 2018 (UTC)
Community content is available under
CC-BY-SA
unless otherwise noted.