Archive 1, Archive 2, Archive 3, Archive 4, Archive 5, Archive 6,
Archive 7, Archive 8, Archive 9, Archive 10, Archive 11
Welcome to my talk page! Feel free to leave a message, but just remember a few simple things:
I need to keep it organized. If you have a message for me that doesn't pertain to a subject already posted, PLEASE PLEASE PLEASE leave a new message with a section headline.
Don't judge, don't be disrespectful, don't spam, don't impersonate.
Follow Site Rules. My talk page is part of the site, after all.
Remember to sign your posts with four tildes (~~~~).
---
Just Saying This Ahead of Time.
Happy early birthday! Tomorrow is your big day and I want to do this a day before.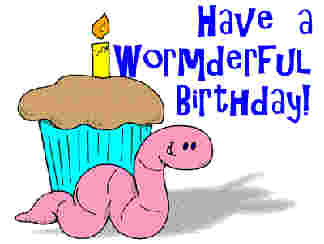 Here is your birthday worm, and I hope that you have a marvellous day tomorrow filled with cake, balloons, party hats, and more that I cannot list at the moment. Do you hear that? That's the grape roaring 19:48, December 2, 2014 (UTC)