Welcome
Hi, welcome to the Creepypasta Wiki! Thanks for your edit to the Glitchy Red page.
Please be sure to read all of the Site Rules, as it is important to follow them. Failure to abide by them may result in your account being blocked.
Read some new pastas by checking out the article index or browse by topic by checking out the Genre Listing. You can also read some of the best stories our wiki has to offer by checking out Suggested Reading. Finally, you can check out stories written by authors of the wiki in User Stories.
Please leave a message on my talk page if I can help with anything!
ClericofMadness (talk) 10:41, May 17, 2020 (UTC)
Editing
Please do not edit the wording or content of a story. It is against the site rules and can be interpreted as vandalism which will result in a hefty ban ChristianWallis (talk) 11:59, May 19, 2020 (UTC)
Notice
Your most recent blog was removed as it constitutes a spam blog. Please review our site rules as the next infraction will result in a temporary ban. EmpyrealInvective (talk) 13:47, May 19, 2020 (UTC)
What is counted as a spam blog tho?
Blogs are not a place to post a simple sentence like "Hi." or "I like creepypasta." These are spam blogs and will be treated as such.. Writing: "Um Im just gonna put this cos I dunno what else to post." is considered spam as there isn't any real purpose for making a blog and it ends up knocking other blogs off the feed that have goals/purposes. EmpyrealInvective (talk) 02:12, May 20, 2020 (UTC)
Thank you, I now understand.
Blogicle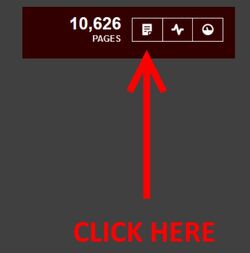 It was noticed that you recently posted a story in the form of a blog post, forum post, profile post, or talk page post. These places aren't the right location for this type of content.
Next time, please contribute it as a page instead. To do so, click the button at the upper right corner of the page labeled "Add New Page" and select "Submit a Story" from the dropdown menu. If you need any help with this, contact an Administrator for assistance.
You were warned above for altering stories to add in endings, writing stories/alternate endings in the comments is considered a blogicle. EmpyrealInvective (talk) 02:12, May 20, 2020 (UTC)
That's part of the template that is included when it's used (i.e. sections can't be removed without the template getting wonky). Pokepastas are currently not accepted unless an appeal is made and in that circumstance, the story needs to meet our quality standards, be an original story (i.e. not be an alternate ending to another author's work), and be approved by an admin. EmpyrealInvective (talk) 02:36, May 20, 2020 (UTC)
Edits should only fix grammatical errors, typos, etc. Edits that change plot points, add new content, alter wording/stylistic choices are not accepted. As for posting your own story, there is no need to seek out permission. However, if your story is a spinoff or is a blacklisted subject, then it requires a spinoff appeal to be approved before it can be posted. EmpyrealInvective (talk) 02:58, May 20, 2020 (UTC)
Re: Battle Cats
I checked wiki and you're not banned. It's likely an issue with your network connection (hence the message). I would suggest unplugging your modem and plugging it back in if you're unable to connect to webpages. If the issue still persists, I would contact my internet provider. EmpyrealInvective (talk) 13:50, May 21, 2020 (UTC)
Tysm:D It now works Snorlax366 (talk) 03:45, May 22, 2020 (UTC)
Banned
As you were warned above against making story edits to other authors' works, this is being treated as an act of vandalism and you are being given a two week ban. EmpyrealInvective (talk) 02:51, May 24, 2020 (UTC)
Re: Badges
Here's a link that should help you out: https://community.fandom.com/wiki/Help:Achievements . Have a good one. EmpyrealInvective (talk) 12:54, July 8, 2020 (UTC)
Community content is available under
CC-BY-SA
unless otherwise noted.