Do you ever have that moment, when you lay in bed, with such a sickening silence around you? You lay flat, staring at the ceiling waiting to become tired, but then, the darkness becomes a little too much for you. You start to become uneasy. You pull your arms and legs on the bed, but that's not enough. You tuck yourself in your blanket as tight as possible, and you shut your eyes as tight as possible.
A word of advice from me, nothing helps but to keep your eyes open at night. Why? Don't you remember? You look over, and you see your open closet. Something is flooding out of it. You calm yourself by thinking that it's your coat. Well, let me tell you, you're wrong.
That's far from your coat. Something else, in fact. A while back, dating back centuries ago, there have been many recordings of the so called, watchmen. They have no physical looks to them, because they are always in the dark. During the day, however, is when they can take the form of a real human. At night, they are usually in the form of the silhouette of a human being. We can infer all kinds of species to them, but they are definitely not human. Angels, demons, you name them.
The thing is: they watch and feed on humans, and humans alone. We don't know what they want, but I assure you, they are not peaceful. They take you and make you disappear. No signs are left. The thing that sickens people the most, is the fact that they just stand there; watching.
Very few manage to get away, most end up missing. They even toy with your families, leaving parts of you where ever they want. No matter where you go, or where you hide, just leave it at this; you are always being watched.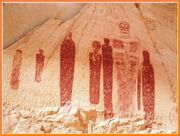 Community content is available under
CC-BY-SA
unless otherwise noted.