You are not afraid.
Prison changed you, made you into a man. That's what you've been thinking about since you left last week. The kids who had tried scratching the door of your house with the word "rapist" ran away crying when you ran out naked, covered in tattoos, armed.
You are not afraid.
Anyone who caused that noise to your home window last night surely ran away in fear when you came out and started shooting in the dark, screaming and cursing.
You are not afraid.
You don't worry about the furious parents of the girls you raped, they will never have the courage to face someone like you, always with a gun at hand.
You are not afraid.
You are not afraid to get up in the middle of the night, completely wrapped in darkness, after hearing the noises coming from downstairs.
You are not afraid.
The electric chair took away your fear.
Like your body.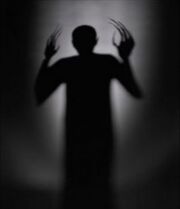 ---
Written by Captain Mantis
Content is available under CC BY-SA
Community content is available under
CC-BY-SA
unless otherwise noted.